Council Officers 'Supporting' Scottish Enterprise? Now they must prioritise support for the Coastal Regeneration Alliance!
... from one who was there ...

"On the larger matter of the "Energy Park" I need to make it clear the stage reached last Tuesday. The Report approved by East Lothian Council authorised Council officers to engage with all parties involved in the emerging proposals for the Cockenzie site and to work with those parties to ensure that the planning and other consenting processes are followed, including full, continuous and informed consultation with local communities and groups. It did not seek or gain 'support' for the emerging proposals as it would be premature for the Council to take a view on this matter at this stage.

"Scottish Enterprise are undertaking pre-application consultation in advance of submitting a Planning Application. Should a Planning Application subsequently be lodged, all Councillors will have access to a full suite of information, including detail of the impact on the historic battlefield .... "

... so, as Council taxpayers hereabouts, will East Lothian Council as our elected representatives kindly now authorise its officers to engage with all taxpayers and residents in the community to ensure that .... ?

It's a simple request and here's anticipating that the Council will act at once. The Coastal Regeneration Alliance needs immediate support to articulate and present its own plans in its own formal Planning Application for the legacy lands of the Cockenzie Power Station, and for the whole coastal area.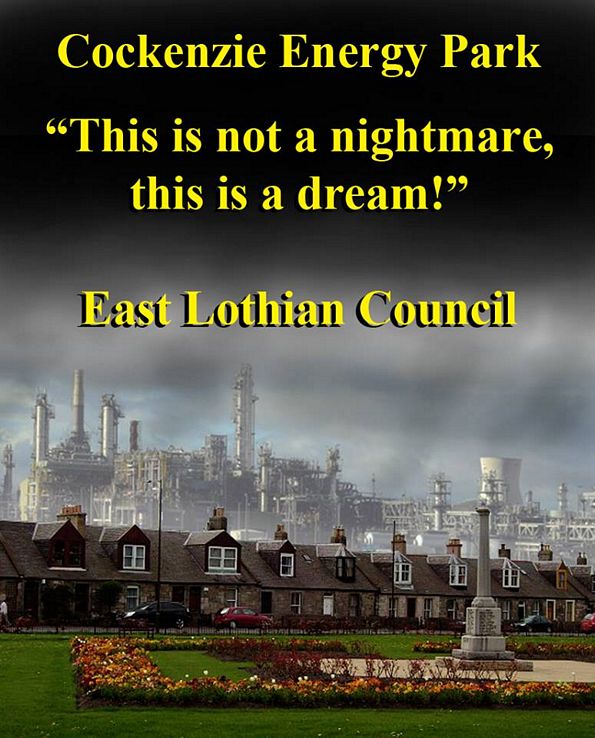 It's a quite different plan from that envisaged by Scottish Enterprise of course. It involves continuing the evolution of our post-industrial communities. It offers opportunities for excellent new residential properties on the brownfield site, vastly improved seashore and sailing club access and recreation space at Greenhills, the comprehensive interpretation of the Waggon Way and the Battlefield with no rail track, electricity cables underground and agriculture restored there as it was, Cockenzie Harbour upgraded alongside heritage Cockenzie House, support for the local fishing industry and much much more.

Opportunities abound for sustainable community growth. So let's get started. We have our own grand plans through the Coastal Regeneration Alliance, and want to see them explored by our representatives and Council officers, not just the extraordinary ideas coming down from Scottish Enterprise.

Aux armes! If there's talk of Scottish Enterprise hoping to weild shovels by 2016, we'd better get a move on or our case will go by default. We mustn't let ourselves be 'distracted' in negative opposition, with transparent process of meaningless 'consultation' about ideas we don't want anyway, fiddling whilst Cockenzie burns!

P.S. All this is coming about because we've all failed this past decade to make sensible well articulated Local Plans of our own.



Published Date: September 1st 2014