Josh Taylor, Pans' Commonwealth Gold Medalist, hugs cow and names his own Real Ale ...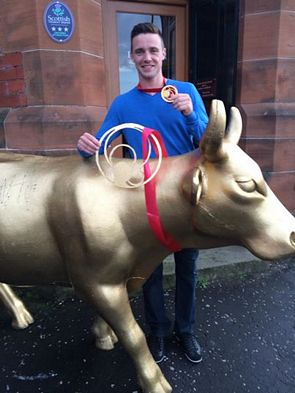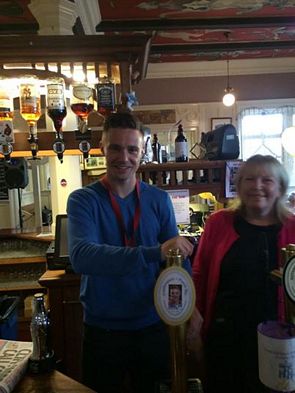 GOLDEN boxer Josh Taylor has been left punch drunk by his dizzying homecoming to East Lothian – and now his local microbrewery pub has named a beer after his exploits.

Edinburgh Evening News: August 19th 2014 reports:

'The reaction to the Commonwealth Games gold-medallist in his native Prestonpans has been overwhelming, with fans marking the light-welterweight's success in bizarre ways such as painting a model cow gold and now the rechristened pint of 80 shilling ale.

'The eccentric owner of the Prestoungrange Gothenburg – better known as the Goth – felt compelled to honour the 23-year-old pugilist by rebranding one of their microbrewed ales "The Prestonpans Punch" in tribute to the fast hands that defeated Namibian Junias Jonas in the heart-stopping final in Glasgow.

'Having sampled the eponymous brew, Taylor – who rarely drinks alcohol – described it as "smooth" and revealed it was the first time he had tasted ale.

"It's not every day you get an ale named after you," he said. "It was quite nice really.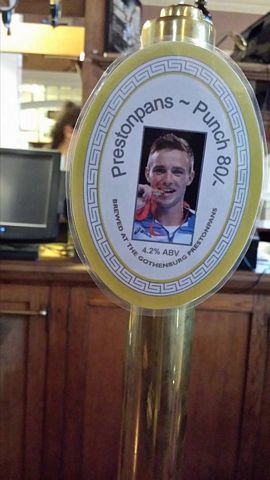 "When I'm training I'm not allowed any alcohol at all."

Taylor has enjoyed a meteoric rise since he first raised eyebrows with a shock silver medal at the Delhi Commonwealth Games in 2010 as a 19-year-old. Since then, he has been tipped for a glittering career after impressing at London 2012 Olympics having become the first lightweight Scottish boxer to qualify for the Olympics since Dick McTaggart in 1956.

As for his homecoming reception, he said: "It's been funny because I'm just a wee guy from Prestonpans but everyone's getting behind me.

"It's been brilliant – I'm really proud. It's really good that my work is getting recognised."

Now, Taylor says he can't wait to mark his medal-winning success in the Capital which plans to stage a public celebration for the Edinburgh athletes on August 29.

He said: "It'll be great to have [a parade] in my home city."

Madcap pub owner Gordon Prestoungrange, formerly the 14th Baron of Prestoungrange after acquiring the lands and the grand title in 1997, said "rebranding the light ale that was brewed in the bar's own microbrewery was a no-brainer.

"Josh is our community hero," he said. "We were hopeful he would do us proud in this year's Commonwealth Games and he certainly did. We've all been carefully watching his career for a number of years and his family is very loyal to the local community."

The 76-year-old eccentric, whose pub returns 95 per cent of its profits to Prestonpans causes, said the regulars were cheering on the local youngster through all his bouts at the Commonwealth Games with the match-ups beamed onto a big screen in the bar.

On the pub's decision to forgo the golden postbox and respray their iconic model cow gold, Gordon said: "Maybe it'll produce gold-top milk."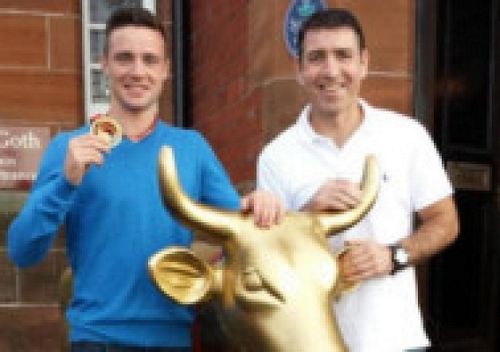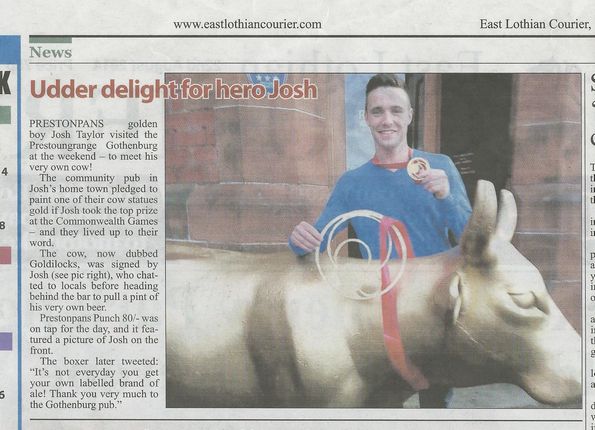 Published Date: August 19th 2014