The Excitement Mounts ... as battlefield conservation appears on Government radar
We thought it just was about a sub-station on the battlefield but it could be more challenging than that

On April 30th the Battle Trust commented adversely on Scoping Proposals to bring offshore windfarm energy ashore at Cockenzie with an associated sub-station slap bang in the midst of the battle site. Historic Scotland were quick to notify East Lothian Council's planners that the proposal was no way a smart notion! They put it more delicately.

Latest news is that a revision has taken place as reported by Marie Sharp in the East Lothian Courier but alas, it's wont conserve the battlefield ...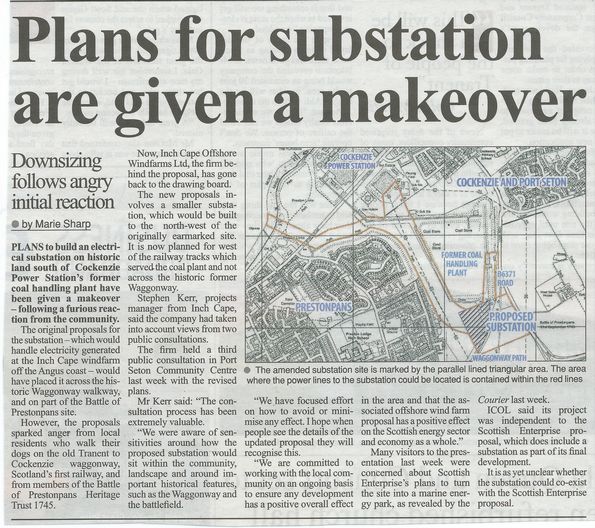 Scottish Enterprise seeks to go one better ...

Just one month later a second Scoping Proposal has emerged as leaked by the East Lothian Courier. Why not be a great deal more ambitious? Scottish Enterprise think so.

If Scottish Power are not going to build a new gas fired power station at Cockenzie, why not use the industrially zoned land, brownfield land, then released for the construction of wind mills with associated docking facilities. The story unfolds below.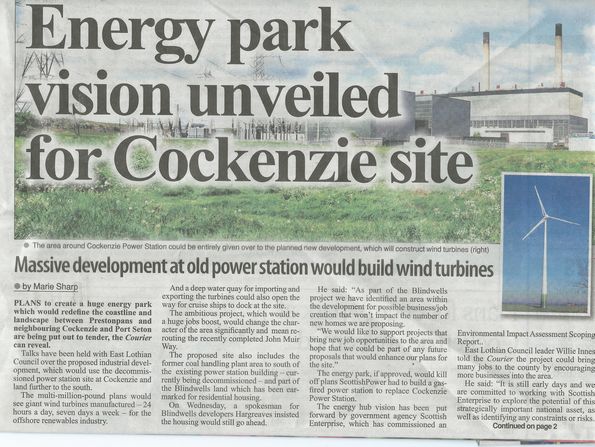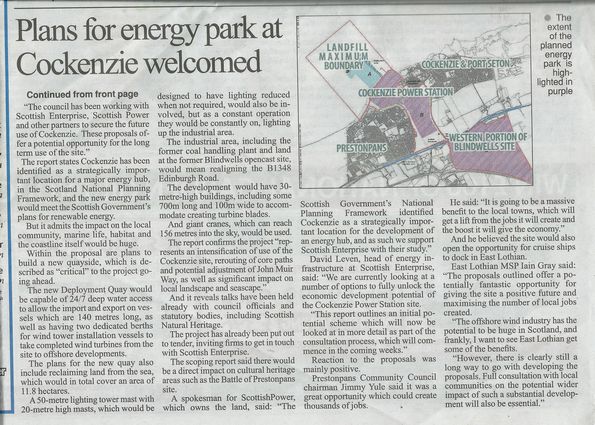 What should the Battle Trust make of such a BIG idea?

The imnmediate answer is simple. The Trust is established to 'conserve and interpret' the 1745 battlefield which is a significant part of the National Inventory as managed by Historic Scotland. In precisely the same way as the Trust responded to the proposal to build housing at Blindwells/ Charlestoun across the Riggonhead Defile, the Trust now wishes to join positively in the process as it moves from Scoping to Planning. The Trust wants to ensure thereby that its goals and those of the developers are honourably met.

The Trust wants to be party to a great total community solution not a disruptive party in opposition! As such, the Trustees look forward to meeting with Scottish Enterprise's scopers and with Historic Scotland to explore exactly how 1+1 can equal 3.

Until then our Lochaber axes, canon and muskets are hors de combat.

...... meanwhile, are we going to face planning blight at Blindwells/ Riggonhead/ Charlestoun whilst Scottish Enterprise ponders ... Hargreaves hopes/ thinks not ...

.... so now the Prestonpans battlefield as part of the National Inventory has a total of three vectors for conservation ... good job we have Historic Scotland keeping a watchful eye nowadays!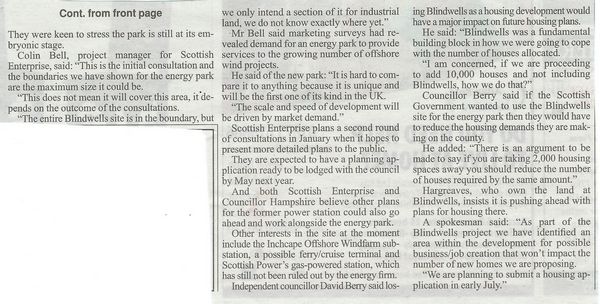 Published Date: June 7th 2014