Riggonhead or Charlestoun ... it's vital the heritage is protected.
East Lothian Courier picks up the story ...

The 1745 Battle Trustees are delighted that the East Lothian Courier has picked up on its campaign to protect the heritage as Blindwells developments go ahead in the coming years. Even to giving an airing to possible alternative names to Blindwells.

The area is of course part of the 'protected' National Battlefield Inventory under the scrutiny and supervision of Historic Scotland with whom the Trust has been working closely. Indeed at the 4th National Battlefield Biennial Symposium, at Prestonpans Community Centre on October 24th this year, the development of the area across which the Prince's Highlanders marched to victory on September 21st 1745 is on the Agenda. [The Symposium will henceforth be jointly convened from 2014 by Historic Scotland and the Battle Trust.]

The heritage story is already well recorded on the Prestonpans Tapestry and by Andrew Hillhouse in his magnificent painting for the Trust shown below. It's a story the Trust's wants to ensure is well known to all who subsequently make their homes at Blindwells. And there's a need to ensure the historic night march can be re-enacted each year at 4 or 5 am along an appropriate authentic defile.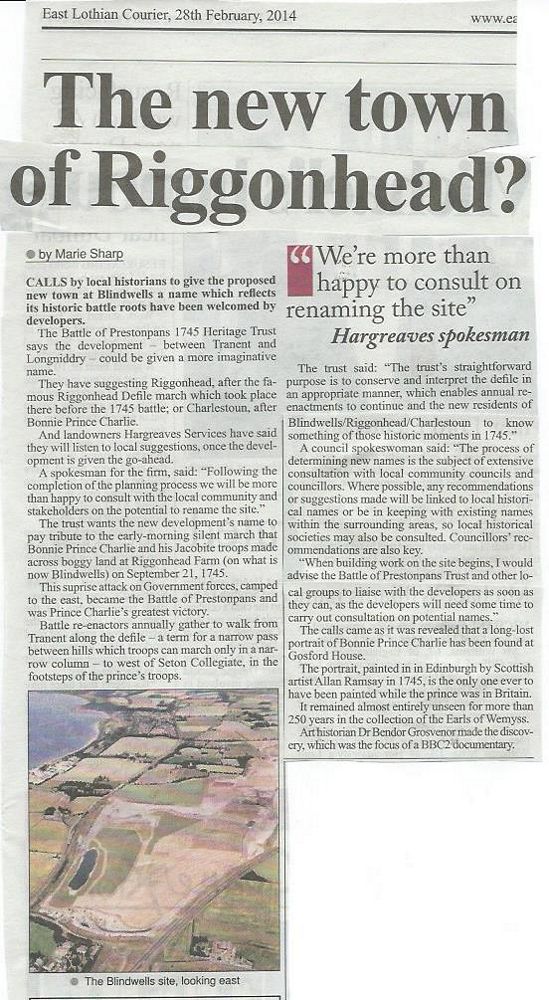 ... and before those 2,500 Highlanders marched at dawn on September 21st 1745 they will have spoken to one another in Gaelic

... which will in the coming months be bringing another heritage issue to the fore in The Pans. Tourism numbers for the Battle Trust are now approaching 5,000 each year. 8 new interpretation boards have been erected around the battlefield and plans are afoot for joint English and Gaelic signage to the Battle Bing at Meadowmill and Bankton House. The Minister for Scottish Languages, Dr Alasdair Allan, will be visiting the Trust on April 2nd to discuss it all. More on that later!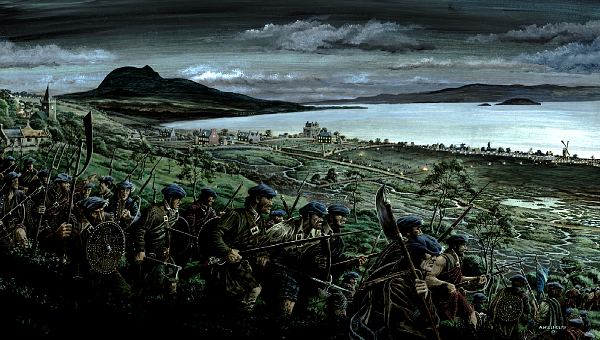 Published Date: February 28th 2014