Queues @ The Parliament honour the legacy ... and there's more to come
The Prestonpans Effect ....

It was mightily apparent when the 200 and more stitchers gathered at Greenhills on July 26th 2010 to have their first private viewing of their Prestonpans Tapestry that more stitching would have to take place! The momentum was too great and the enthusiasm especially amongst those who'd arrived too late to be a stitcher, too determined. But where would that energy be next directed, and how soon?

They did not have to wait long for an answer! Just 4 months later Sandy MacCall-Smith beheld the Prestonpans community artwork on exhibition at the Dovecote in Edinburgh and was immediately inspired. He saw its visitors learning history anew and recalling history forgotten. And he thought: if Panners could get a single battle sequence stitched, surely the nation at large could stitch the whole history of Scotland. Let's recruit a brave historian, and the Prestonpans team, and give it a go.

So he simply picked up the phone to artist Andrew Crummy and asked if he'd care to tackle a 'Great Tapestry of Scotland'. Just under 4 years later they're queuing outside Holyrood Parliament to see it. Andrew is conducting the nation's First Minister on a 90 minute tour of it all. And Dorie Wilkie and Gillian Hart, the management team that helped create the Prestonpans Tapestry, rest on a second set of laurels for having helped make the Great One too.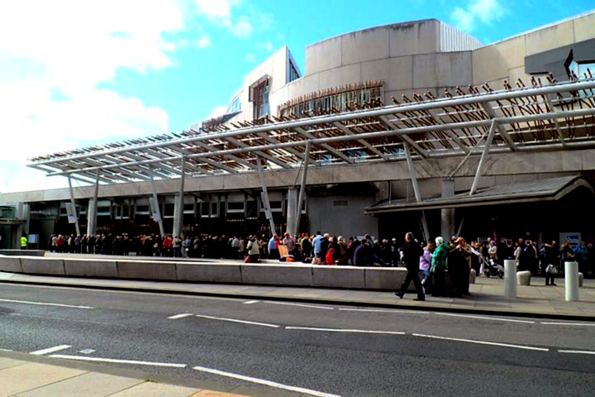 Despite frequent suggestions, the Great Tapestry is not 'like' the Bayeux. Bayeux and Prestonpans both tell a short story as a cartoon strip. Each panel is sequentially linked - in French une bande dessinée.

The Great One is a series of beautiful but largely discrete windows on the nation's history across 400 million years. As such if it is to be comprehended in the full it requires the most thoughtful and absorbing presentation. An animated DVD with a wide range of narratives can perhaps begin to do it justice.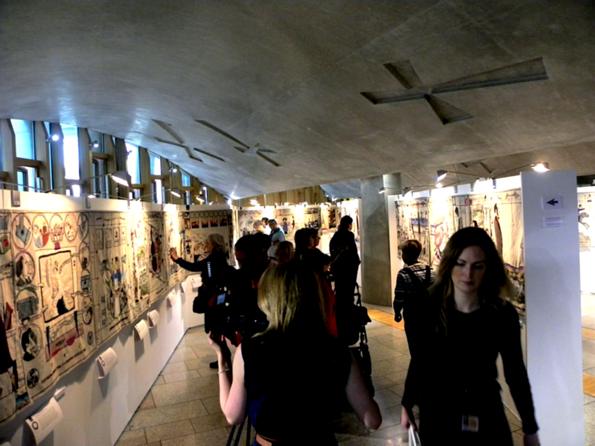 The Great One is, incidentally, a far finer work of art that the Bayeux. The designs, stitching and colours not to mention the tale each panel has to tell, make it truly wondrous to behold. And it has so much more to teach us all.

... then two came along ...

It's the oldest wisecrack about buses, but it's also true about tapestries inspired from that first in Prestonpans that unveiled on July 26th 2010. As well as the Great Tapestry of Scotland inspired by Sandy MacCall-Smith there's the Scottish Diaspora Tapestry being created by Prestoungrange Arts Festival for the 2014 Homecoming - designed once again in Andrew Crummy's studios. Gillian Hart is there again working this time with Yvonne Murphy and Arran Johnston. Migrant Scottish communities across the globe have been invited to stitch their stories of the new lives they built. The initial scope is 25 countries stretching from Lithuania to New Zealand and from China to Sweden. But we confidently plan to allow it to grow and grow in the years ahead. Its first exhibition, like the original Prestonpans Tapestry, will be in The Pans week commencing May 31st 2014, at Prestonpans Community Centre - a major feature at the 2014 3 Harbours Festival.






Published Date: September 28th 2013