Cabinet Secretary for Culture Fiona Hyslop MSP back in the Pans again ...
Seeing is believing then ...

Monday noon, June 3rd, in the midst of our eighth 3Harbours Festival, Fiona Hyslop will be talking 'culture' for a third time with Panners. This occasion is all about our Scottish Diaspora Tapestry, which is very much in a state of aestivation right now.

IT'S LINKED HERE

The first dozen blocked panels, and artwork for many more that are currently out and around the world, will be shared with the Cabinet Secretary at Prestonpans Community Centre. And she will then be invited formally to unveil the first cohorts from Sweden and Italy.

Everyone is welcome to attend @ 12 noon, June 3rd - complimentary coffee and biscuits too ..

And it's a great chance to learn more about The 2014 Homecoming for which we have already received at £44,000 grant at Prestoungrange Arts Festival to take our new tapestry on tour, including the MOD in October 2014. Yes, the official guide will also be in Gaelic, the language many of the Scots migrant families that are today making the embroidered panels spoke as they sailed away.

P.S. The Scottish Diaspora panels are on display amidst the full panoply of The Battle of Prestonpans Tapestry which returns to the Prestonpans Community Centre from Saturday June 1st/ 8th excluding Sunday. Open 11 am/ 4 pm.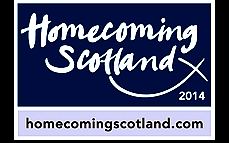 Published Date: May 30th 2013