3 Harbours 2013: Brilliant Festival Looms .... download the programme
Can it really be the 8th? How lucky can we get hereabouts ...

It's hard to remember a time when the arts weren't flourishing across Greater Prestonpans. And it's hard to recall the 1st 3Harbours Festival when the inimitable logo appeared ... but now it's time indeed for the 8th.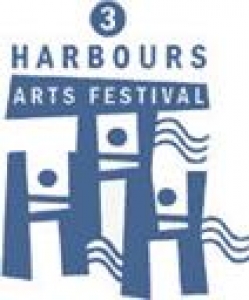 Yes, now in its eighth year, the Festival continues to deliver on its promise of "art in unusual places", with this year's packed programme proving no exception.

From intimate exhibitions at residents' houses to a chance to view one of the world's longest tapestry [Yes, it's back at Prestonpans Community Centre] this year's festival, running from June 1 to June 9, with previews on May 31, promises something to keep every visitor entertained.

The East Lothian Courier ran the story:

"We are looking to build on the success of last year," Andrew Crummy, chairman of the festival, said. "We're expecting footfall of about 30,000 to 40,000 people and about 200 participants.

"The 3 Harbours is always about showcasing local artists and East Lothian artists. It shows that there is a lot of talent in the community and it's about celebrating that.

"And there are always surprises: things you aren't expecting. You'll just have to wait and see!"

This year will also see a celebration of local history, with the first ever Prestonpans Weekend - three days of events, dedicated to telling the story of the town - taking place over the festival's first weekend.

FRIDAY

The festival starts off with a traditional Salt Walk when 'Cistercian monks' demonstrate the skill of making salt at Morrison's Haven on Friday, May 31, at 3pm. Then there's a Parade from the Museum to the Prestoungrange Gothenburg at 6pm.

SATURDAY/ SUNDAY

On Saturday, June 1, visitors can step back in time to 1745 at the Battle of Prestonpans Family Day, with the Jacobite camp preparing for battle.

The town's outdoor artwork will be explored during the Mural Trail, leaving from Prestonpans Community Centre at 11am on June 1, 3 and 8, while the town's role in Scotland's Industrial Revolution will be highlighted through drama courtesy of the Prestoungrange Players at The Gothenburg pub on Sunday, June 2, 2pm to 4pm.

Visitors also have a chance to view the Battle of Prestonpans Tapestry when it returns home to Prestonpans Community Centre from June 1 to June 8.

The town's latest mural will be unveiled at Cuthill Park at 11am on May 31. It follows the same theme. The Prestonpans Community and History Mural has been designed by P5 pupils from Prestonpans Primary School and focuses on Bonnie Prince Charlie's journey from the Highlands to Prestonpans.

And on June 1, local artist Tom Ewing will be creating a mural on the beach opposite the Potters Community Mural, off High Street, between 11am and 5pm, weather and tide dependent.

Iris McMillan, meanwhile, will be offering insights into the fishing history of Prestonpans and the surrounding area in her 'Crans, Creels and Tunes' talk on June 2 at 2pm at Prestongrange Museum.

It's much much wider then Prestonpans of course!

As well as history, a wide variety of art will be on display throughout Prestonpans and Cockenzie and Port Seton, whether on show in one of the festival's open houses, this year's largest venue Cockenzie House, or other unique settings.

Local landmark and former festival venue Cockenzie Power Station, which closed earlier this year, will be remembered in Alex Hewitt's photography exhibition at Cockenzie House 'Beating Heart Stilled', which pays tribute to the many workers who kept the plant running.

Meanwhile, art of all varieties will be on display when residents open up their homes to host everything from oil paintings to wood carvings.

Sonsie Sangs, and a capella duo, will bring the area's seafaring traditions to life with several performances of sea shanties.

There is also plenty to keep young art lovers entertained, with a family fun day at Seton Collegiate Church taking place on June 8, offering hands-on activities and storytelling.

While the Youth and Children's Art Festival at Port Seton Community Centre on June 1 will offer youngsters a chance to try their hands at various arts and crafts.

The festival also includes the prizegiving for the Youth and Children's Art Exhibition and a 'Port Seton's Got Talent' contest for primary school pupils.

ACTION LINES NOW:

Download the full programme DIRECTLY HERE


Published Date: May 13th 2013