Gaelic Poet Mac Mhaighstir Alasdair takes breakfast with The Prince: September 21st 1745
Folklore has it The Prince took a breakfast of claret and beef at the captured cannons after his Victory at Prestonpans ...

... it certainly was not a triumphal moment since the Prince had insisted that the wounded from both sides be taken care of at once. But thereafter folklore says that he did indeed have some breakfast, probably late in the morning. It may well have been at a time when unbeknown to him Colonel Gardiner finally died at Tranent Manse.

Following Ronald Black's presentation at the 3rd Bienniel Battlefield Symposium in June 2012, the Trust resolved to ask Ronald Elliot, the local artist, to capture the moment and to depict The Prince sharing breakfast with Mac Mhaigstir Alasdair [seated] - of whom there is no known image. He was a greatly respected Gaelic poet who before during and after the Uprising sang the Prince's praise and his hatred of Cumberland.

Mac Mhaigstir Alasdair had joined the campaign from his home at Dalilea House as The Prince prepared to depart Kinlochmoidart House by Dailiea Pier, up Glen Sheil via Glenaladale to Glenfinnan on August 18th/ 19th. He taught him some Gaelic during the coming months.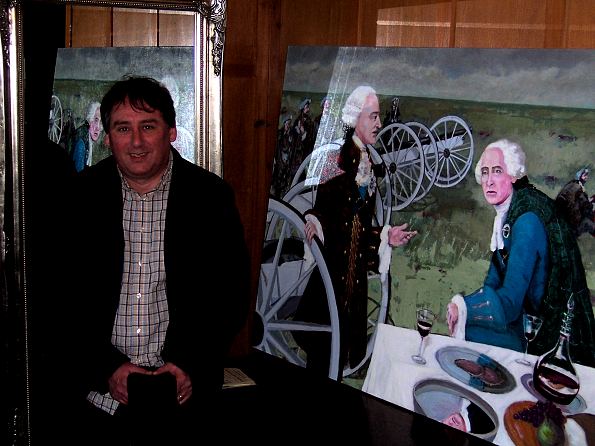 above Ronald Elliot sits with his artwork as he delivers it to the Trust on March 28th, and below, the mirror complements him too!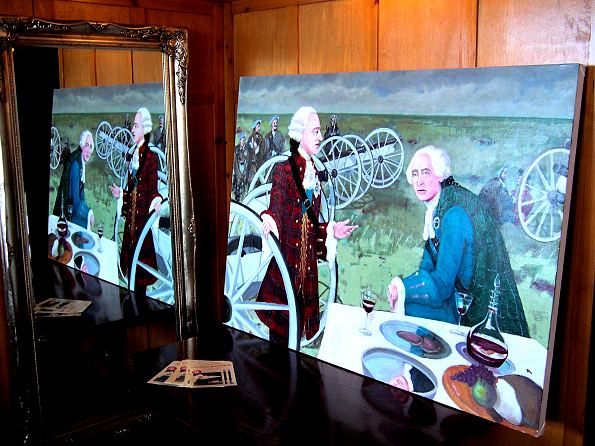 The painting is away now with framers and a date for its first public exhibition later this year will be announced shortly. Have you already noticed the artist's bee and the image of the King over the Water in the breakfast tray?

Ronald Black added when he saw the finished painting: "In a break with normal etiquette, you'll be struck by the artist's choice to have the poet seated and the Prince standing. That neatly conveys a psychological message - the Prince erect, the poet hunched.

"I am really taken with the effect of going in to the poet's eyes. He had just seen dreadful horrors and it actually shows. The downturned mouth conveys the same effect. I think he WAS haunted for the rest of his life by what we would now call post-combat stress. I think you see the same in the Prince, but slightly more cynical, slightly more detached, slightly more looking forward to what comes next.

"One thing I would say though is that the Prince himself has ended up looking a good bit older than his 25 years. I think my conclusion must be that while the slaughter has made the poet sadder, it has merely made the Prince older! In historical terms that would be very fair comment."

Perhaps a closer look?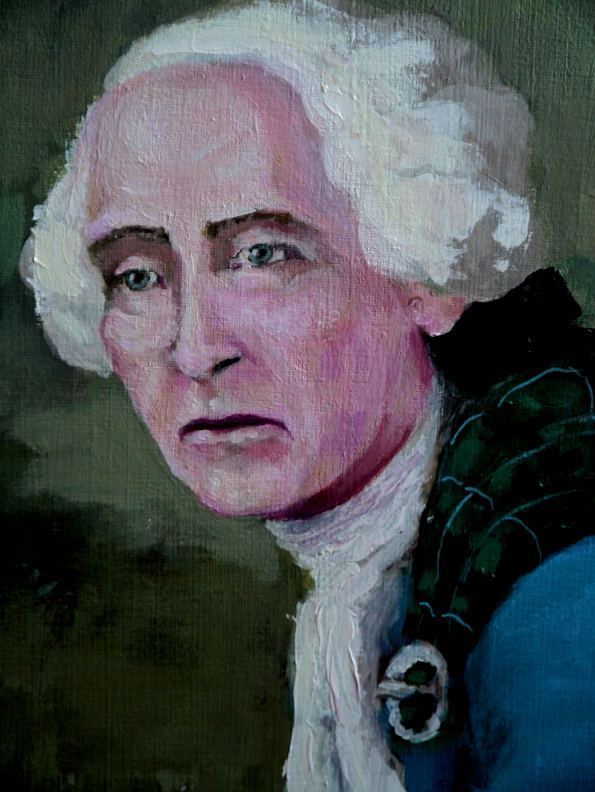 Published Date: March 31st 2013