Arrival of Swedish Panels for the Scottish Diaspora Tapestry - they're first!
Seeing is believing ... another major artwork is coming along nicely in Prestonpans!

Prestoungrange Arts Festival was mighty enthusiastic when it heard that the Gothenburg stitchers led by Lisbeth Cajstam had completed their embroidered panels and were ready to bring them to The Pans in time for Easter. Their arrival meant months and months of planning and advising had born fruit and that hundreds of other stitchers across the world could see the beginnings and emerging nature of this ambitious global artwork ...

The eight Swedish panels are the first to be completed of some promised 150 from across 25 countries by the end of the year - in readiness for their combined big launch at the 2014 Homecoming. [Observers will note that there are only 7 here, with the eighth being finalised with the help of Christina Sundin here in Scotland!]

Each arriving cohort of panels will be celebrated at The Prestoungrange Gothenburg where the panels will always be viewable on rotating display when they are not out on national and international exhibitions.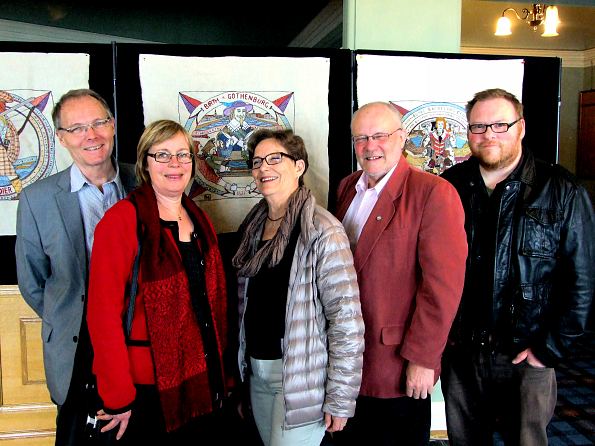 above left to right are Ake Eliasson, Anne Eliasson, Lisbeth Cajstam, Jorgen Linder [former Lord Mayor of Gothenburg] and Tom Ewing [Prestoungrange Arts Festival]

Locally in Prestonpans volunteers are now being recruited to stitch an additional panel that celebrates all the Gothenburg Pubs that opened in Scotland during the 20th century, not least those still active today such as the Dean Tavern at Newtongrange and the Gothenburgs in Armadale, Fallin and Prestonpans itself.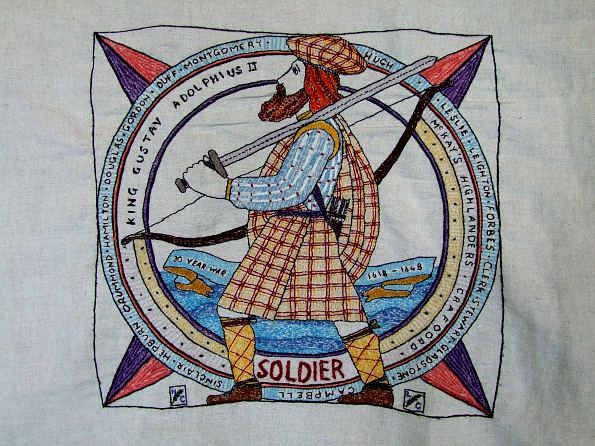 The Swedish arrivals were welcomed on behalf of East Lothian by our Provost, Cllr. Ludovic Broun-Lindsay, the Swedish Consul in Edinburgh and members of the Scottish-Swedish Association. Receiving the panels were Andrew Crummy, the tapestry's designer, stitching leaders and co-ordinators Yvonne Murphy and Gillian Hart, webmaster and publisher Arran Johnston and Gordon Prestoungrange, Project Chairman. Tom Ewing of the Prestoungrange Arts Festival sang and made music in the bar all evening - he's a Gothenburg veteran from 2004 when he painted a commemorative artwork of Jorgen Linder's first visit that hangs in the Gothenburg Lord Mayor's Parlour. He met with the Lord Mayor at his two subsequent visits to Prestonpans in 2008 and 2011.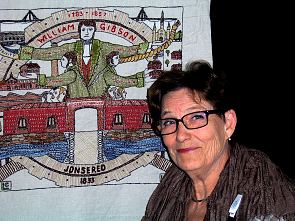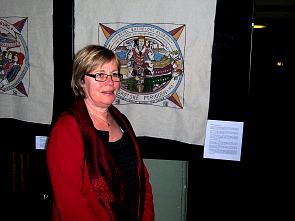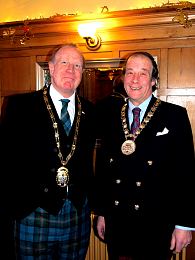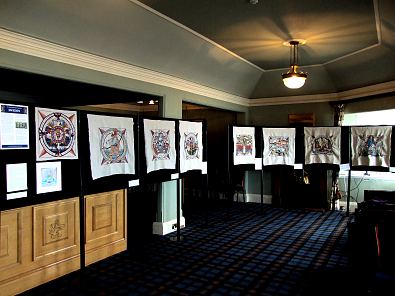 Lisbeth Cajstan and Anne Eliasson are pictured in front of the panels they stitched; the Chain Gang are the former Baron of Prestoungrange and East Lothian's Provost

The Swedish panels were displayed in their 'raw' state, that is before blocking and making ready for professional exhibition. Each embroidered work is 500mm x 500mm. Text describing the Scottish history involved in each instance is displayed in Swedish as well as English. And by the summer all text will be in Gaelic as well. The official website and printed guide will carry all these languages.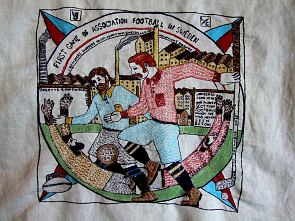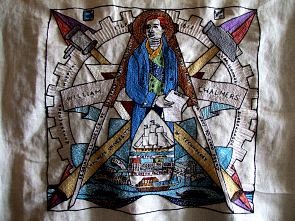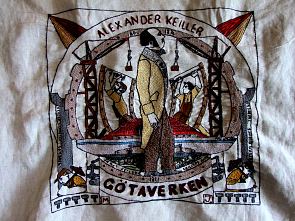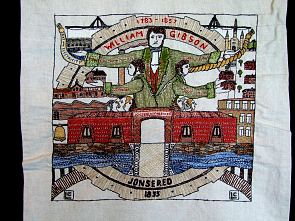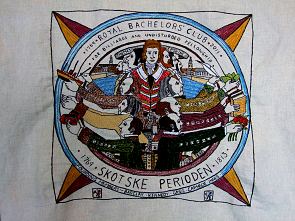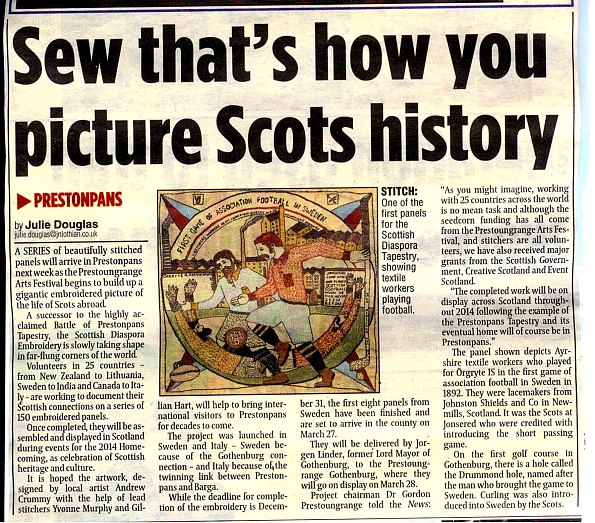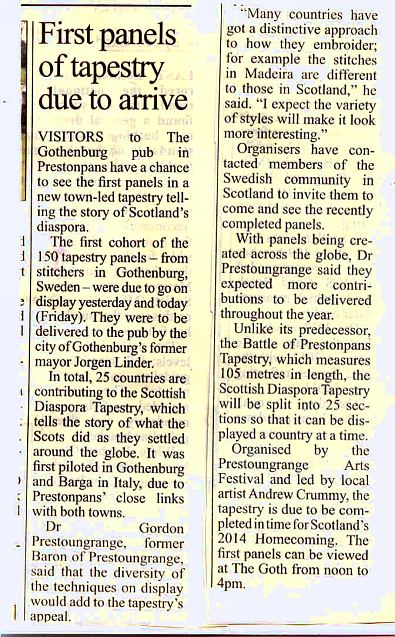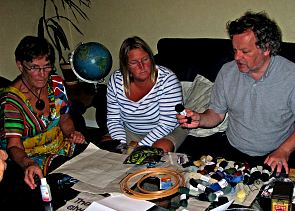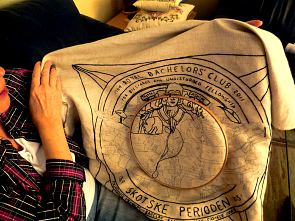 Published Date: March 30th 2013