Scottish Diaspora Broadcaster and Writer Billy Kay to Visit Prestonpans
BROADCASTER AND WRITER TO VISIT PRESTONPANS FOR DIASPORA TALKS

Well-known writer, broadcaster and performer Billy Kay will be in Prestonpans on 4 December to meet pupils at Preston Lodge School and give a public talk at the Gothenburg. The visit is part-sponsored by the Living Literature Fund of the Scottish Book Trust.

Billy is an expert on Scottish culture, history and language and has produced and presented TV and radio programmes which have been aired all over the world. He is also an accomplished author and has written a number of books – most recently on the Scottish diaspora, The Scottish World.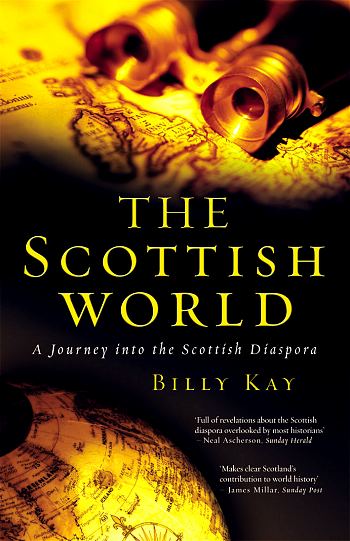 This book has been one of the significant inspirations behind the Scottish Diaspora Tapestry, the latest initiative by the Prestoungrange Arts Festival. Billy readily agreed to become an advisor to the project and has been impressed with the enthusiasm for Scots heritage in Prestonpans.

"I'm glad to share the knowledge I've gained through travelling and researching 'The Scottish World' and to make a contribution to the Scottish Diaspora Tapestry project," said Billy. "Thanks to this Tapestry there is going to be a stunning artistic depiction of the amazing contribution the Scots have made on every continent."

Preston Lodge & Gothenburg Workshops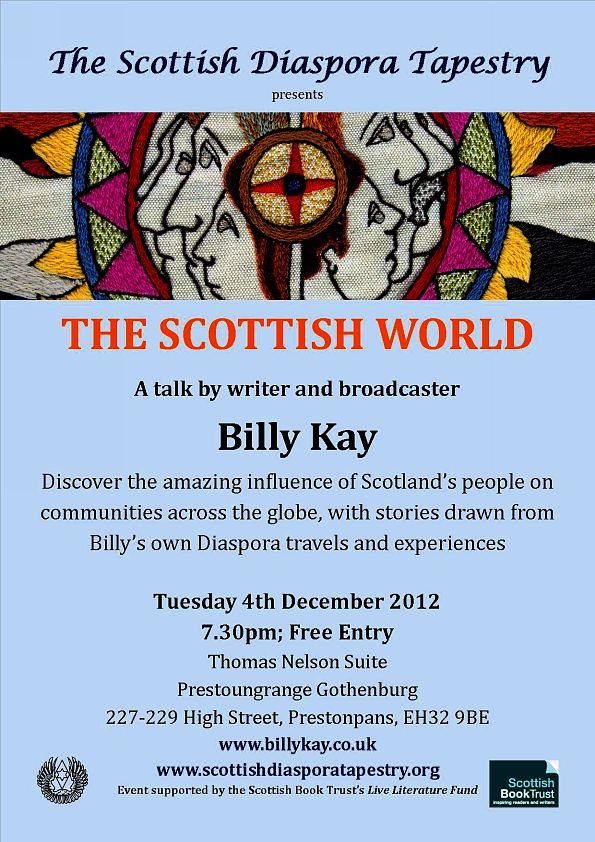 During his visit on December 4th Billy Kay will be meeting pupils at Preston Lodge School in the afternoon, before hosting a public talk at the Prestoungrange Gothenburg in the evening.





He will tell stories from his travels and detail the incredible influence the Scottish diaspora has had in far-flung countries of the world from Hawaii to Malawi, Scandinavia to Brazil. Billy will illustrate the presentation with clips from the many radio features he has made on Scots abroad.

The evening talk will start at 7.30pm at the Gothenburg, 227 High Street, Prestonpans. It is free to attend and entry is on a first-come basis. Telephone 01875 819922 [not Mondays] or 01382 542070 for more information.



Published Date: November 27th 2012