5. Captain Clarke Gives A Helping Hand @ Prestonpans
Redcoat Officer gives welcome aid to the Battle Trust

Captain Clarke of Hamilton's Dragoons recent fame hereabouts is, as we now know, because of the triumph of a skull surgeon in 1745. We know nothing of his leadership qualities on that field of battle, or earlier from 1743 when he first appears in military records. But in the here and now his services are greatly appreciated by the Battle of Prestonpans [1745] Heritage Trust. The Captain's Skull Exhibition at Prestongrange Museum attracted almost 1000 visitors over its three weeks run.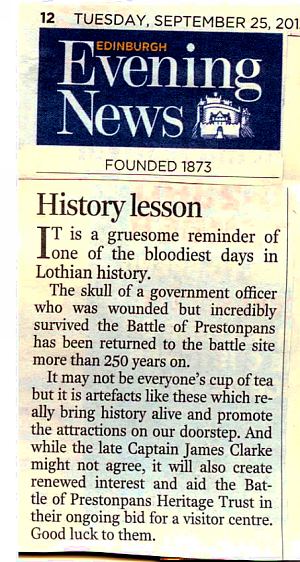 It's a long and arduous, if often enjoyable, challenge to persuade one and all that the battle fought on September 21st 1745 deserves to be properly remembered and interpreted in Scottish history. As the Trust has argued since 2006 it was an extraordinary moment in myriad ways including the flowering of Scottish literature and poetry it occasioned - not to mention the Hanoverian [still in use today] National Anthem God Save Great George our King!

It was in fact the only occasion in East Lothian on which a Scottish army has triumped over the invaders if you leave aside the Saltire inspired mythology of Athelstaneford in 832. Dunbar I [1296] and II [1650] were unmitigated diasasters - the latter deemed to be Cromwell's finest hour. And Pinkie in 1547 was a bloodbath.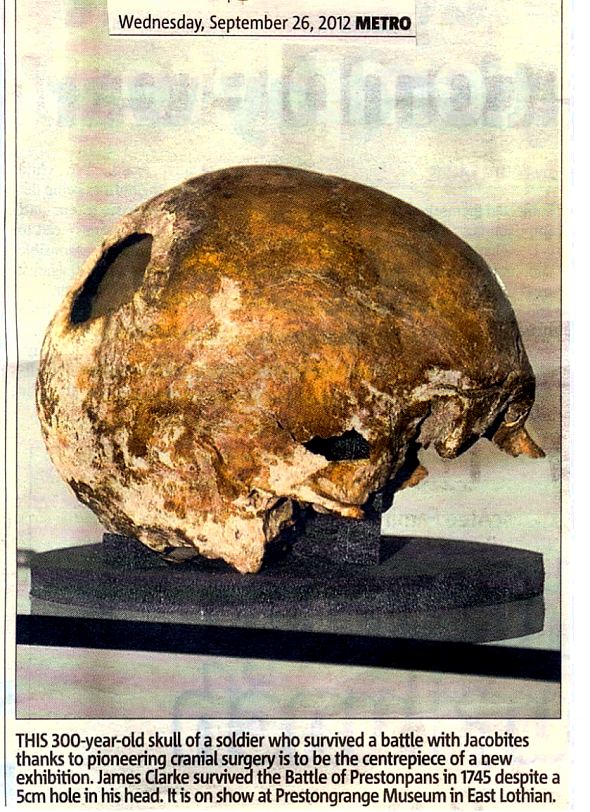 We've made great progress and more and more are inclined to the view our Trust's objectives are attainable - not least in the aftermath of the creation of 104 metre Battle of Prestonpans Tapestry, and the annual re-enactments which are the largest Jacobite commemoration anywhere in the UK led by our local Alan Breck Regiment of Prestonpans Volunteers. And Yes, we have bold plans to work in partnership with the Prestongrange Heritage Museum in the years ahead.

So it was especially pleasing that, with the support of Katherine Weldon and her colleagues at the Museum, the Captain's now 'honoured' skull could be exhibited.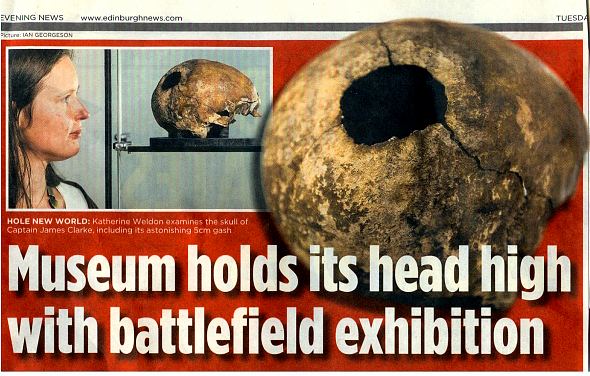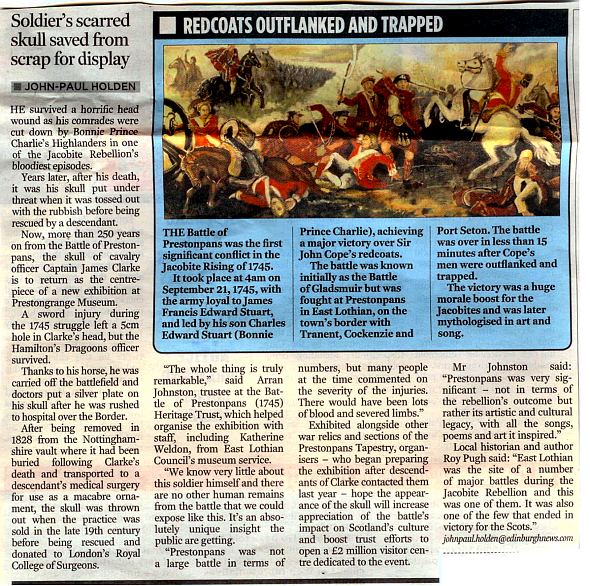 The Edinburgh Evening News wished us Good Luck in their Editorial for our campaigning. We appreciate that as we know the descendants of Captain Clarke today also do.

As a footnote .... we can add that the Good Luck the Captain himself had on September 21st 1745 in finding surgeons close at hand to treat his wounded skull immediately is seemingly recorded by Carlyle in his subsequent memories of the battle. 'He saw surgeons in a house in Prestonpans treating a British officer with an identical injury to that of Captain Clarke. Apparently British Army surgeons attached to the Dragoons voluntarily surrendered so they could treat their wounded officers.'


Published Date: October 14th 2012