Pembroke Honours its Mayors .... Up the Wall
The Mayors of Pembroke: A Portrait Gallery 1877-2014

In 1877, the Village of Pembroke was incorporated as the Town of Pembroke. The community's leader would now be referred to as Mayor and is where the story of this mural begins.

The first Pembroke Town Hall was designed by Michael Gorman and constructed in 1884. Illustrated here on the right and now called Victoria Hall [42 Renfrew St], it housed Council Chambers, the Police lock-up, the Fire Department, and it had a large hall for community events. The fire bell was added in 1899. The Town Hall served the Town and Council until 1958, seventy-four years. Considerable changes have been made over the years but it still remains an impressive piece of architecture.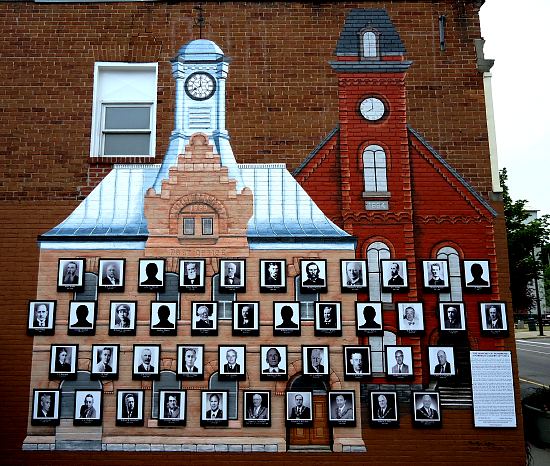 Where the Muskrat River flows under the Pembroke Street Bridge, Thomas Fuller, who designed the original Parliament Buildings in Ottawa, designed the Pembroke Post Office. 1 Pembroke Street East was constructed in 1889 by J.W. Munro [masonry] Walter Beatty [joinery] and James Grieve [carpentry].

Illustrated here on the left of the mural, it was considered one of the finest buildings in Canada at the time. The clock was added in 1892. The Collector of Customs and the Collector of Inland Revenue were on the second floor. Throughout the years, the third floor apartment has been the residence of the caretaker. In 1958, the building was completely renovated and converted to the current Municipal Offices and Council Chamber. In 1971, The Town of Pembroke was declared a City.

It was our goal to produce a portrait gallery within a mural setting. Forty-three laser engraved photos are installed over the mural. Once again, the Pembroke Heritage Murals Committee has been privileged to work with several people who have contributed their knowledge and skills to this unique project.

Pembroke's 33rd mural is the result of two years of research, planning and community support.

Artist: Marillyn Saffery
Assisted by: Shauna Torgenson

Published Date: August 30th 2012