5AM September 20th .. Medal Morning for the Riggonhead Defile ... 6th Anniversary Walk
... it's the Taking Part that matters ... not just the winning!

Those who took part, Walking along the Riggonhead Defile, on September 21st 1745 [that's 267 years ago] were indeed great victors at the ensuing battle. The British National Anthem had its origins in London with its notorious call to Crush Rebellious Scots immediately after that victory as those south of the Border, and more than a few this side of the Border, cried out in anguished concern God Save King George our King.

From its outset in 2006 the Battle Heritage Trust [1745] has insisted that Walking the Riggonhead Defile at 5AM would be a vital element of the annual re-enactments. Not for this Trust the Gentleman's hours all too often suggested; the real thing. Only in this way could the key element of dawn surprise achieved by the Highlanders be fully experienced and the Trust's determination, and reputation, for authenticity sustained.

Each year since 2007 some 40/ 60 stalwart re-enactors and local walkers have gathered at Tranent Co-op car park at 4.30/ 4.45 AM. There they are fortified with hot soup, a Scotch egg and an apple for their silent walk in the dark to Seton Collegiate and southern Cockenzie ... where the initial skirmish took place. At 5AM, led by Colonel Adam Watters of the Alan Breck Regiment of Prestonpans Volunteers, the Walk begins ...

It takes just over half an hour to reach Seton Collegiate and then the march back to The Prestoungrange Gothenburg where a true Scottish breakfast awaits at 7 AM.

Andrew Hillhouse captured the historic scene in a much loved painting for the Trust shown below: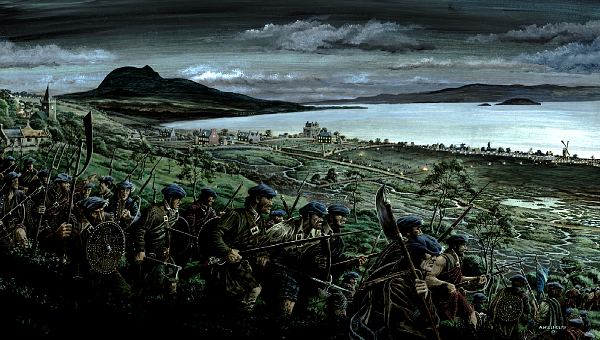 2012: Diamond Jubilee & Olympic Year Bronze Medal Struck ... for the Walkers

The Trust has always been extremely grateful to its legion of early risers, getting the Annual Re-enactment rolling each year. For 2012, the 6th Annual Walk, the Trust resolved to create a medal for all who join the Walk. But it does not wish to belittle the services of those who walked from 2007 till 2011 so they too are eligible for a retrospective medal. And so will Walkers be from 2013 and beyond. But there is to be a wee distinction. 2012 sees a red white and blue ribbon with their bronze medal whereas other years will be white and blue.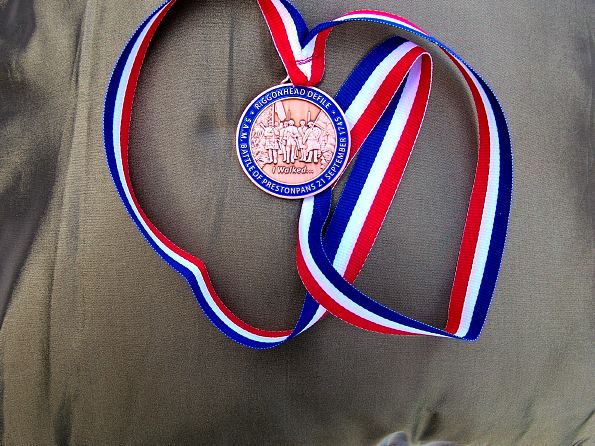 .... and if anyone is puzzled where the image comes from, it's the iconic photograph from 2007, as shown below.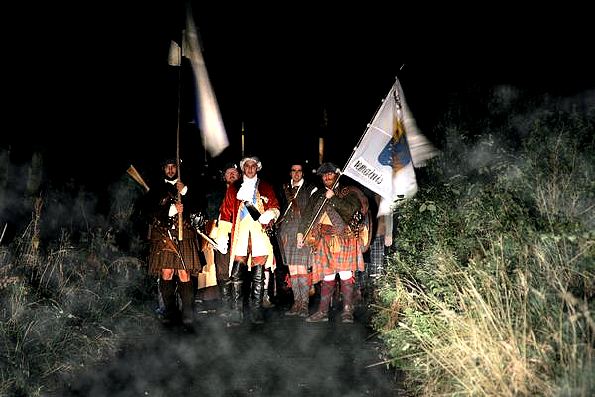 Yes, there is a hidden agenda too!

There's a not very well hidden agenda that accompanies the Annual Walk it should be added. East Lothian Council and Scottish Coal have long had plans to create a new eco-friendly community at Blindwells close by the A1 north of Tranent. Outline plans quite clearly show it will be built on the site of Riggonhead farm and the Defile. So be it, provided please that the route of the Highlanders march to glorious Victory on September 21st 1745 remains open and formally recognised and celebrated.

So, will all 2012 Walkers please be in touch asap ... September 22nd

It's always totally OK simply to present oneself at Tranent Co-op car park at 4.45 AM, but to assist the Goth's Scotch egg and soupmakers, it's even better to let your intentions be known. And of course, you might want reassurance and further details. Even if you cannot make it this year but have a proven record of past participation, please don't be backward in coming forward to claim your bronze! To do any/ all of this please contact Arran Johnston HERE

P.S. .... whilst the Scotch egg and Scottish breakfast are 'on the house', to help the Trust's charitable work along may we ask that medal recipients contribute towards their expense at £2.50/ £3 each plus any post/packing @ £1.50 that may be required?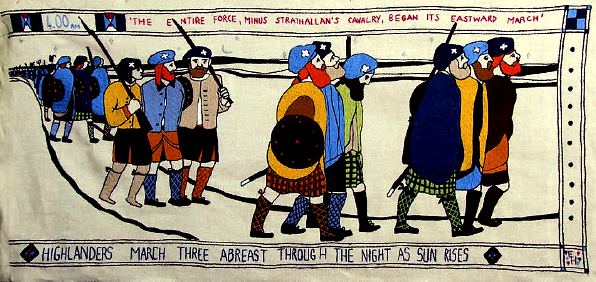 .... and the Tapestry itself of course tells the story on Panel #69 shown above as stitched by Elaine McMorrine.


Published Date: August 15th 2012