Speed of Light ... maybe, but the Prince was days ahead
Questions have been asked ...

... but the correct answer is necessarily/ pedantically provided!

Some journalists, waxing quite rightly about the Speed of Light artwork at this month's Festival, have suggested that 'Bonnie Prince Charlie and his army spent the night before the Battle of Prestonpans in King's Park close by Arthur's Seat.'

That was not the case. As our Tapestry depicts and the history books have long told, they spent the late night/ early hours sleeping fitfully in Tranent before silently [in Tranent only the dogs barked] making their way three abreast along the Riggonhead Defile at 5 am in the morning to reach Seton village by sunrise ...

That's a route the Alan Brecks' Regiment with fellow re-enactors will once again be walking this year on September 22nd, at that same early hour. And in keeping with the Olympic spirit a Medal has been struck that shall be awarded to all who accomplish this challenging occasion - in celebration of the 6th Annual Riggonhead Defile Walk in Diamond Jubilee Year.

It's Bronze by the way, no Gold or Silver - yet!
_______________________________________________________________________

[Ed. Elizabeth Couper stitched Panel # 56 below. The Highlanders crossed over Arthur's Seat after two nights in King's Park to Duddingston, arriving there on September 19th ... and then slept in Duddingston on the nights of the 19th & 20th entertained at the Sheep Heid: to quote:]

'The King's Park provided ample space for the ever growing numbers of the Highlanders and it was out of range of the castle's cannons under General Guest's command. They were joined by 400 MacLachlans and men from Atholl under Lord Nairne's command. The city of Edinburgh also provided 1200 muskets for the Highland army on the Prince's demand once news of Cope's landing at Dunbar was received. Lord Provost Stewart was further required to provide 1000 tents, 6000 pairs of shoes and 6000 canteens. The army subsequently moved its camp to Duddingston on September 19th'.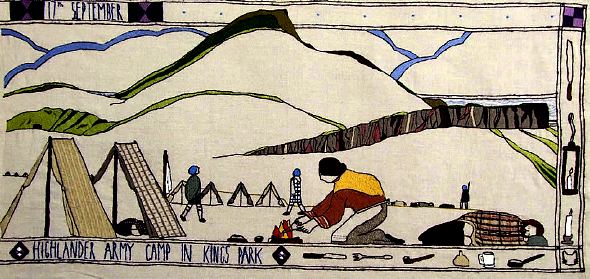 Published Date: August 13th 2012