Prestongrange Heritage Museum invited families to meet the Alan Brecks .. July 1st
Annual Family Day once again draws the crowds

The Battle Trust and in particular the Alan Breck Regiment of Prestonpans Volunteers glady accepted a third invitation from the Museum team at Prestongrange to stage an annual Family Day on July 1st - an occasion when local families can meet with the re-enactors and talk about why and how they do it all!

Hot on the heels of their annual Regimental Dinner Jacobite soldiers established a tented encampment from which they told tales of their victory at Prestonpans in 1745. Visitors were treated to demonstrations of the Highland weaponry which earned the Jacobites glory on the battlefield, whilst the officers continued to train the men in anticipation of the Princeís next move.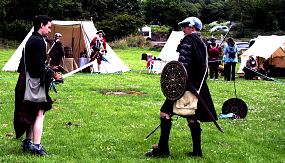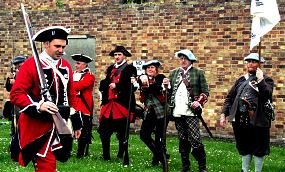 Redcoats attempt a Disruption

Previous years have always seen the recruits practising unmolested, confident that the only redcoats nearby were captive in Edinburgh. This year however they were in for a surprise! In the afternoon the tranquillity of Prestongrange was shattered by the loud crack of musket fire echoing across the museum site. Jacobites and curious visitors alike were shocked by the sudden attack. The Highlanders rushed to arms and headed towards the gunsmoke on the high ground (near the famous beam engine!). There were government soldiers amongst the trees, but their jeers were cut short when they realised the size of the Jacobite force they had attacked.

The redcoats turned out to be just a small band of survivors from Copeís defeated army, hoping to reach safety in Edinburgh Castle. They soon ran out of ammunition and, since they refused steadfastly to surrender, were cut down in a charge of furious Highlanders.

Throughout the day there were also presentations about the clothing and weapons of both armies, as well as a chance for the public to meet the Regimentís Colonel-in-Chief, Martin Margulies, who supervised the encampment and shared his expertise on the Battle of Prestonpans campaign.

Weather un-noteworthy .. there's a relief!

The occasion, hosted by the Battle Trust and East Lothian Council, brought over 200 visitors to the museum. All held themselves fortunate that, although a far cry from the sweltering summer heat of 2011ís Family Day, the weather did not repeat the heavy rain of 2010ís!

Once again, the Alan Brecks greatly appreciated the participation of longstanding friends from the Glenbuckets throughout the day.





Published Date: July 13th 2012