Soap can't wash his crimes away - and July 10th 2012 brings memories back
Cavendish Square in central London lies to the back of John Lewis. Intriguingly, since well before John Lewis was partnerised, there's been an empty plinth at its centre.It will be occupied again for a year from July 10th 2012.

From 1770 it sported an equestrian statue of HRH The Duke of Cumberland. The third son of HM King George II, he had enjoyed a brief spell of English popularity following the Battle of Culloden in 1746 with Handel's Conquering Hero composed in his honour. But he quickly became something of a hate figure for his part in persecuting and murdering Scottish Highlanders in the aftermath of Culloden. As sympathy with the Highlanders' way of life grew in Victorian times, especially after the success of the writings of Sir Walter Scott and Robert Louis Stevenson, and Queen Victoria's affection for all things Highlander at Balmoral, his statue was removed in 1868.

Long after it was thought "we'd washed our hands of him" he's making an Olympic cultural comeback. Korean artist Meekyoung Shin has sculpted a replica of the Duke from soap to be installed in Cavendish Square in time for the Olympics. It will remain for a year. The artwork is easily explained thus:

"As it weathers through the four seasons, it is a testament to the continuously mutable meanings we attach to not only monuments but to one's history."

Of course it is. What a fine tribute to the Olympic spirit don't you think.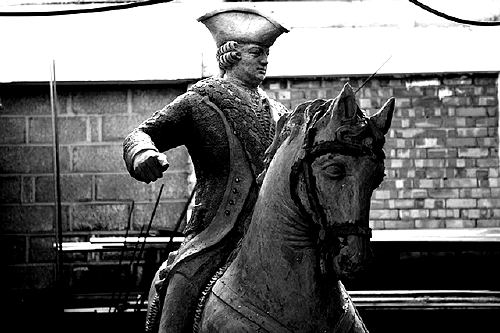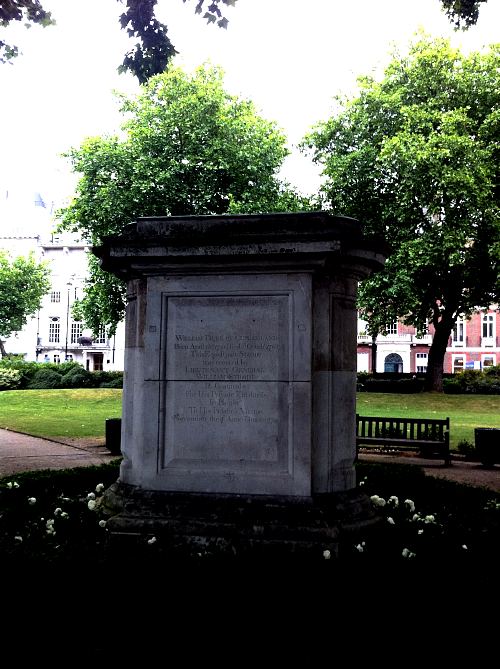 Why did Lieutenant-General William Strode place it there?

From the inscription still quite clearly visible on the plinth - the original bronze was placed there in 1770, following the Duke's death in 1765, by one Lieutenant-General William Strode - who was subsequently Court Martialed* in 1772 for failing to clothe his troops in the 62nd Regiment of Foot when on duty in Ireland. He was subsequently found not guilty but was required to refund monies paid by some soldiers for clothing they had not received.

The inscription records WITH GRATITUDE FOR HIS PRIVATE KINDNESS, IN HONOUR TO HIS PUBLICK VIRTUE - what particular private kindness might have been accorded to whomsoever is apparently unknown.

There seems to be no trace of the original statue today and there is a myth that it was held in a warehouse subsequently destroyed in the blitz in World War II. As a Hanoverian that might be seen as poetic justice ...

There is an Obelisk to the Duke still standing ....

There is a memorial Obelisk to the Duke's military services in Windsor Great Park. It is inscribed "THIS OBELISK RAISED BY COMMAND OF KING GEORGE THE SECOND COMMEMORATES THE SERVICES OF HIS SON WILLIAM DUKE OF CUMBERLAND THE SUCCESS OF HIS ARMS AND THE GRATITUDE OF HIS FATHER THIS TABLET WAS INSCRIBED BY HIS MAJESTY KING WILLIAM THE FOURTH."

According to a local park guide, the Obelisk was originally inscribed "Culloden" but HM Queen Victoria had "Culloden" removed.

______________________________________________________________________

* The Charges and the Court, including Lord Cavendish in whose eponymous square the statue was already standing, appear below:

At a General Court Martial held at the HorseGuards on Tuesday the 5th of May 1772 and continued by several Adjournments to Friday the 9th of the same Month, by Virtue of His Majesty's Special Warrant bearing date the 31st day of March 1772:

General: John, Earl of Loudoun, President.
Lieutenants General: Hon. George Boscawen & Lord Robert Bertie
Daniel Webb, William A Court Ashe, Sir Charles Montague K.B. Sir Jeffery Amherst K.B., Stadholme Hodjson, Hon. Robert Monckton, Edward Sandford, John Lambton, John Parslow, William Browne, Lord Frederick Cavendish, Sir John Sebright, Bart., John Clavering, Hon. George Cary.

Charles Gould: Judge Advocate General.

The Members being assembled and duly Sworn, Lieutenant General William Strode, Colonel of His Majesty's 62d Regiment of Foot came Prisoner before the Court, and was Accused of having:

'Wronged several of the Non: Commissioned Officers Drummers and Private Soldiers of the said Regiment under his Command - by withholding from them the Cloathing, to which they were intitled for the year 1769, the Cloathing which appeared to have been delivered to them in the said year 1769 upon their arrival in Ireland from the West Indies being no other than that which was of Right due for the the year preceding.'



Published Date: July 9th 2012