Lord Selkirk, Lord High Commissioner, visits The Pans ...
Just one more visitor indeed, but with a wee entourage as well ...

The Battle Tapestry was delighted to welcome Lord Selkirk and his party to the Pans Town Hall on Saturday afternoon for a scheduled visit to see our increasingly renowned and appreciated community artwork. He arrived with motor cycle outriders and the Royal Flag on his Mercedes car hood.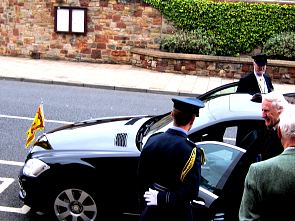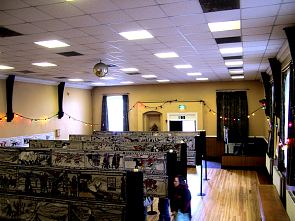 There to meet and greet him as he and his party mingled with other visitors were Sir Garth Morrison, a longstanding Trustee, the artist Andrew Crummy and Lead Stitcher Dorie Wilkie. So too were Peter MacKenzie, the man whose campaign since 2000 led to the establishment of the Trust in 2006 and Shona MacManus, maybe a 'humble' stitcher but the lead singer for the Stitchers' Pibroch on the Greentrax CD!

Arran Johnston, who has now arranged no less than 24 Exhibitions of the Tapestry since it was completed in July 2010, showed the Lord High Commissioner around whilst Andrew Crummy briefed the lady guests.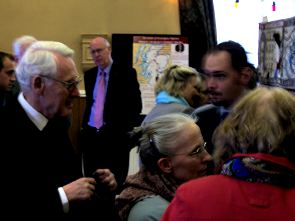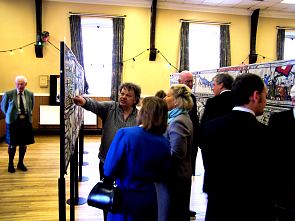 Weekend Opening in The Pans widely welcomed and well attended ...

As had been announced, the Exhibition was for one and all to come although the VIPs were anticipated. It proved popular as ever with wholly new faces, returnees with friends they wanted to see it too, groups of Americans on Saturday and Norwegians on Sunday - even an incognito BBC Reporter plus a New York embroiderer, who promptly volunteered to help with the planned Diaspora Tapestry. On stage the animated DVD proved popular. It will be showing regularly at The Goth during the 3Harbours Festival shortly.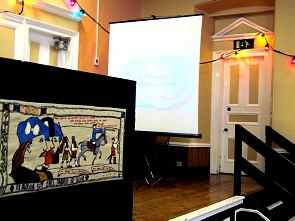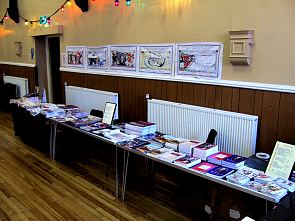 NewsNet webmaster, RAF ret'd/ demobbed, was delighted to see Lord Selkirk had brought his Royal Air Force equerry with him to The Pans - makes a change from Leuchars he observed. And Arran Johnston made sure Lord Selkirk left with a copy of the Trust's Manifesto as presented to the Holyrood Parliament in December 2010 with help from Iain Gray MSP!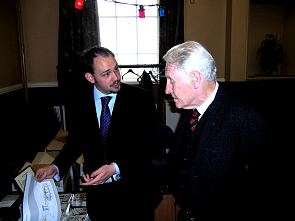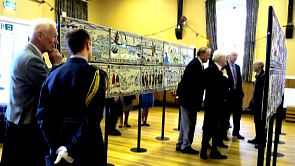 Next Stop?

For those who are wondering, next stop for the Tapestry is in St Mary's Cathedral in Edinburgh for 3 months. It's there by popular demand after last year's stunning success with a new exciting programme of associated events. It opens on Friday June 1st - just as 3Habours Festival itself begins its 10 day run in the Pans, Cockenzie and Port Seton. And the Trust's Wedding of the Year at the Cathedral between Executive Trustee Arran Johnston and Fiona Campbell will have it as backdrop!

Apologies to Nicole Kidman and Colin Firth for upstaging them!



Published Date: May 21st 2012