Tapestry back at Prestonpans Town Hall ..... May 19th/ 20th .. for Lord High Commissioner & all of us too ...
The Tapestry is Open to All throughout the weekend in Prestonpans notwithstanding the 'Special Guest' ....

One and all are invited to see the Prestonpans Tapestry Saturday/ Sunday May 19th/ 20th from 12 noon/ 4 pm on both days [and a special Norwegian Group Visit at 10.30 am Sunday].

Another very particular Special Guest as announced on the poster below is coming along during the weekend, but he and his party will join any and all who are there at the time. It will be an early opportunity for one and all to see and perhaps purchase the new animated DVD of the Tapestry which has been made in Bayeux for the Battle Trust - with choice of French and English narration. It launched in French at the start of the month!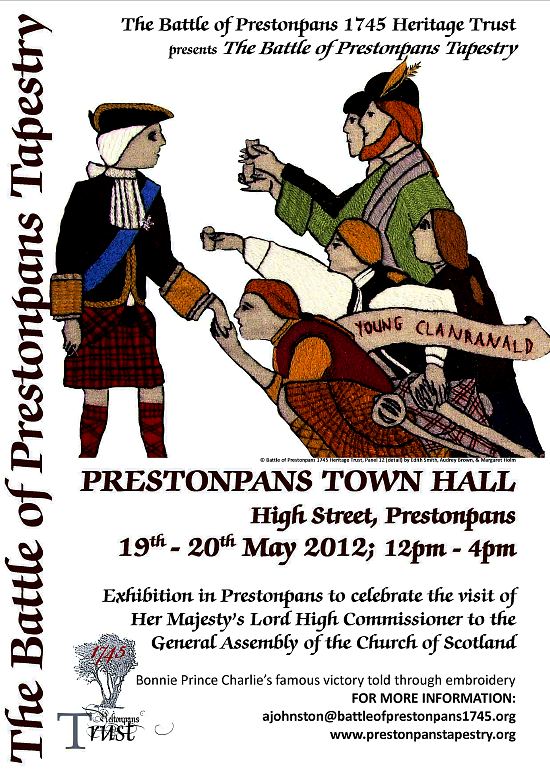 It's a quick turnaround for the Tapestry which has just returned from its highly successful first overseas Exposition in Pornichet/ St Nazaire from April 29th/ May 6th. Approaching 4000 visitors came to see it there at the Hippodrome including the Maire Robert Belliot and Charles Edouard Walsh, whose ancestors provided the two ships, du Teillay and L'Elizabeth, in which the Prince's campaign began in St Nazaire in 1745. Charles Walsh is pictured below with the panels telling that part of the story.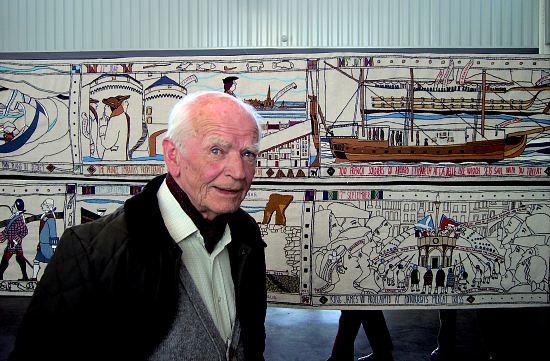 Published Date: May 11th 2012