The Prince's Factitious Whiskies: explained / consumed @ last!
It all started on the internet ... but now the French will get first taste ... 'tis the Auld Alliance after all ...

The Battle Trust is always keen to offer innovative ways of presenting the Jacobite story of 1745. Now it's the turn of Scotch Whisky! We've now found 7 'factitious' malts + the unavoidable Drambuie and the surprising remainder of the SS Politician in Whisky Galore!

We at the Battle Trust cannot claim it was our 'own' bright idea, or that the whiskies now forever to be 'officially associated' with the Tapestry were being distilled at the precise time the Prince passed by en route to Victory and Legend. No, the idea came from internet friends on the continental mainland, Hungarians mostly, [LINK HERE FOR THEIR DETAILS] ... they began the research which we are now most proud to proclaim ...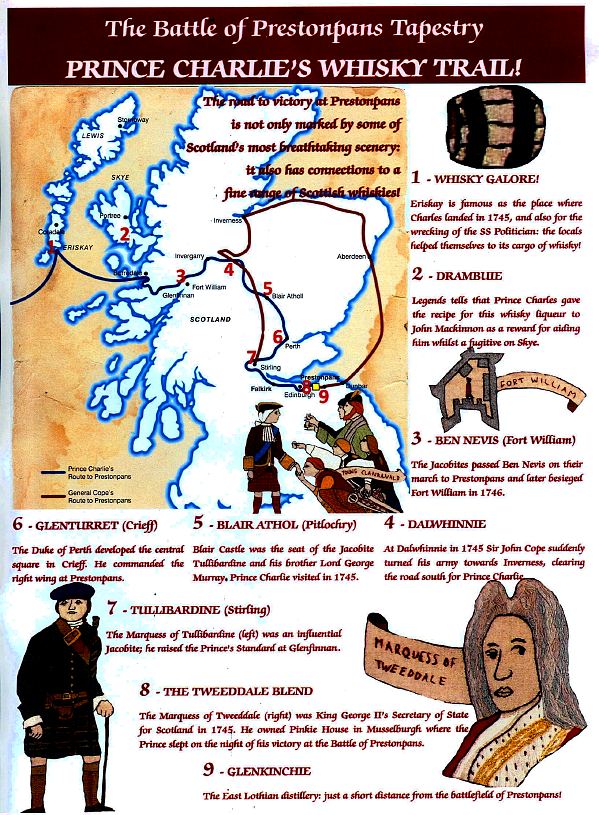 P.S. We have been assured that our Breton friends- all proud Celts in both Pornichet and St Nazaire - are greatly looking forward to launching this latest initiative for us!

They also get first look at the TinTin presentation of our story ....



Published Date: April 20th 2012