Tapestry to France: Pornichet-St Nazaire Programme Published
Sunday April 29th - Mayor of Pornichet Opens the Exhibition

10.30 to 12 noon: Formal Welcome by The Mayor of Pornichet.

Followed by luncheon Reception with live Scottish music from five members of Askol ha Brug.

The Battle Trust will be providing the 'Prince's' whiskies along his route and celebration Drambuie of course.

Visitors will not only be able to view the Tapestry itself but will be able to see/ hear/ purchase the Battle Trust's new animated DVD in French; and purchase John Unwin's French language 'Tin-Tin' presentation of the Tapestry in cartoon format.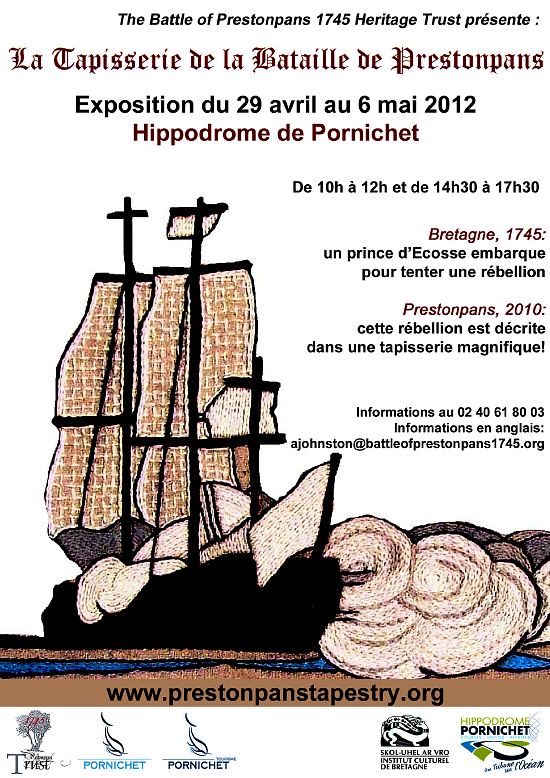 The Week's Highlights Other key events during the week include [i] April 30th evening: Dinner with representatives of the municipality and the Board of Agora de l'Estuaire in Saint-Nazaire; [ii] May 2nd Breton Embroiderers' Day 11 am to 5 pm with exhibition of some of their work and books; [iii] May 3rd 6.30 pm - 8 pm: Lecture on the Stuart family, Charles Edward Stuart, and the Walsh family who funded the two vessels du Teillay and L'Elisabeth in 1745. Hospitality by the municipality and dinner by the Board of ECLAT at Hotel Ibis in Pornichet.

The Exhibition closes on Sunday May 6th.

N.B. During the week the Battle Trust's Exhibition team led by Arran Johnston will visit the house in St Nazaire where the Prince stayed overnight in June 1745 and La Belle Isle where he waited four days aboard the du Teillay for his rendez-vous there with L'Elisabeth and the 700 French soldiers on board.



Published Date: April 10th 2012