Edinburgh's Decorative & Fine Arts Society Honours The Tapestry
EDFAS Edinburgh Honours Our Tapestry

It continues to be a source of unending delight to see and hear so many compliments paid to the designs of Andrew Crummy and the craftsmanship of the 200 and more stitchers who created The Prestonpans Tapestry.

Most lately Edinburgh's Decorative and Fine Arts Society honoured our community artwork. It wasn't on display at Alexander MacCall-Smith's Guest Lecture at Greyfriars Kirk, Edinburgh, [which was pleasurably followed by a wine and canapés reception, in our aid], but a visiting party from EDFAS had earlier visited the display at Haddington's St Mary's Church.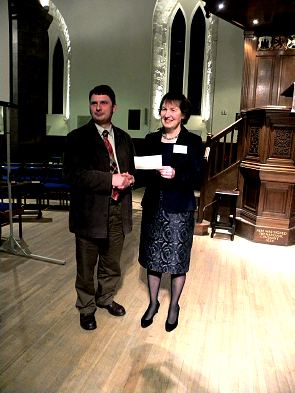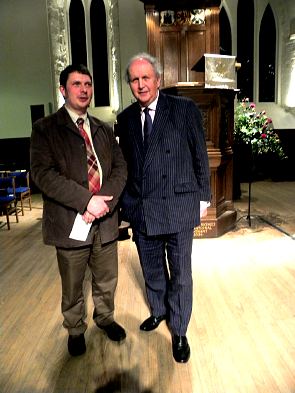 The Society also most generously made their annual donation to the Tapestry's Charitable Funds 'to be put towards the cost of the transportation and display of the Tapestry when it is on tour'. Touring is the lifeblood of the Battle Trust's campaign to create its permanent home in The Pans. Even when that 'home' is secured the Trust firmly believes an annual touring schedule must always be an integral part of the educational 'sharing' of this community artwork with as wide an audience as possible.

The Chairman of the 1745 Battle Trust [left], Gareth Bryn-Jones, is also an architect and has created preliminary designs for that eventual home. So it was especially appropriate that he was there to receive the Society's cheque in the sum of £6,000.


Published Date: March 13th 2012