Michael Jessing Paints our Labour Club .... the People's March is getting closer ...
Official Launch set for Friday March 23rd

Some murals take longer to complete than others, and the Labour Club mural by Michael Jessing, to be launched at the end of March - Friday 23rd - now holds the record. From initial design to completion has taken nigh on two years. The challenge was to ensure that it added to the enjoyment of the Conservation Area where it is depicted rather than detracts. The Arts Festival very much trusts Panners will believe it adds!

The first image below is Michael's initial sketch. None of the faces are 'actual' but many a resemblance can perhaps be seen. So many of our nation's and the UK's at large great Labour leaders have visited the Club over the past century it was felt likley to be invidious to pick out just a few. And there have been hundreds of major contributors to the Labour cause locally too. The images do more than just recall Labour Party themes however. To the left the images represent many of the working population's activities over the centuries.

click to enlarge all images




We asked Michael to tell his story about this his latest major artwork. He writes:

"When given the opportunity to do a mural for the Labour Club of Prestonpans I did a number of rough sketches of themes that I thought would be appropriate. Once the subjects to the finished mural were chosen, I then went back to the drawing board to do more accurate drawings which could be transferred to the plastered wall. The composition of the mural was designed around various Labour events and industry within Prestonpans.

"The section to the left depicts workers involved in numerous industries in Prestonpans - mining, salt panning, pottery, brick works etc.. Whereas the right section focuses on the miners' strike in the Nineteen Eighties. In the centre is the Labour Party emblem beneath which is the Mother and her children - with past, present and future generations.

"The outdoor painting process was done in segments taking approximately forty days at the wall working from the right side to the left. The paint I used was Keim - known for its durability and longevity in challenging outdoor conditions." [Ed. Conditions are not as tough as on the Pans sea wall perhaps but we need the best!]

click to enlarge all images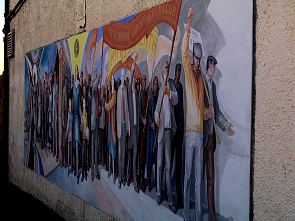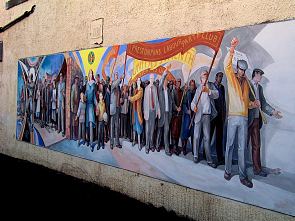 Every muralist gets passers-by with memorable comments ...

"When looking at the faces in the mural some people would ask: Is that so and so? My reply was to say that any resemblance to people living or departed is completely coincidental aside from Keir Hardy who may or may not look like this muralist!

"Retired miners looked at the mural and gave me very helpful advice on equipment, slogans on banners, and what life was like a thousand feet below the surface.

"Many people would reminisce about what life was like in Prestonpans not so very long ago. They talked of family or friends who worked in the industries, socialised at the Labour Club and contributed to the community. It made the time I spent so very enjoyable and worthwhile."

click to enlarge all images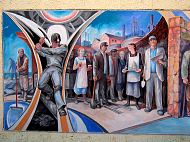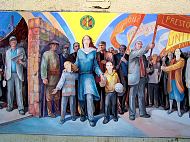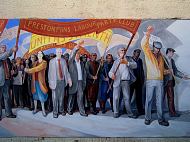 _______________________________________________________________

So, bless him, who is Michael? He's a Yank, not a Panner, although now he's a believer! He first came to The Pans to contribute to Tom Ewing's Murals Fest in Cuthill Park in 2009, taking first prize for Black Gold. He returned again in 2010 painting Gala Day. His 'Soviet' style heroic art has been very well received so he seemed absolutely the right artist to commission to commemorate our ancestors at the Labour Club.

click to enlarge images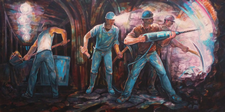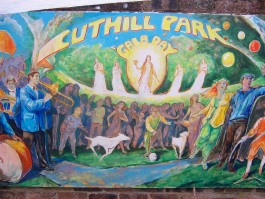 Michael writes: "In the 1970s I studied at the Art Students League in New York City under Robert Brackman and then began exhibiting in the United States in galleries and museums in New York and Ohio in the 80s. I moved to Scotland in the 90s where I have offered exhibtions in Edinburgh, Carlisle and London among other places. It was in the first decade of this century that I developed my skills in mural painting and icons."

Throughout my forty years as an artist, I have expressed responses to personal and social issues in my art. By using allegory, visual metaphors, and mythological themes I have sought to create poetic visual narratives built upon imaginative compositional structures. My paintings and drawings are journeys within a figurative format. I have been influenced by artists such as William Blake, Goya, Stanley Spencer, and Botticelli.

"In 2007, I painted three large gilded murals of ďA Procession of AngelsĒ for St. Peterís Church in Peebles. My illustrations to the complete Book of Psalms were exhibited in York Minster Library and Chichester Cathedral in 2008. They were then exhibited in Wells Cathedral in 2009 and Carlisle Cathedral in 2010 and 2011".


Published Date: March 7th 2012