Cockenzie House Weekend II for the Tapestry
Cope would have been pleased ... by the support coming forward! Better than on his Highland Odyssey in the summer of 1745 ....

Cockenzie House was always going to be a special place to present the Prestonpans Tapestry. The Cadell family which owned it for so many centuries were loyal Hanoverians, one ['T'] winning the VC in India and his brother, General Sir Robert, writing a fine defence of Cope's military strategy and tactics. [It's beeen reprinted by the Battle of Prestonpans 1745 Heritage Trust and is on sale at The Prestoungrange Gothenburg.]

But it has done more than honour the heritage, it has also prototyped an oft mentioned but never attempted exhibition 'mode' - some panels are in one room more in another. Certainly it enables the extremely long artwork at 105 metres to be seen in uncramped conditions. And that is precisely what some 500 or so visitors did on Cockenzie House Weekend I - as reported in the East Lothian Courier February 17th. More than that, they availed themselves of the opportrunity to purchase some of the hopefully tasteful merchadise that now accompanies the exhibitions. The Jenkinson sisters' descendants [they of Duddingston and Tranent Manse fame] bought out the entire stock of tapestry mugs with those sisters' mugs on them!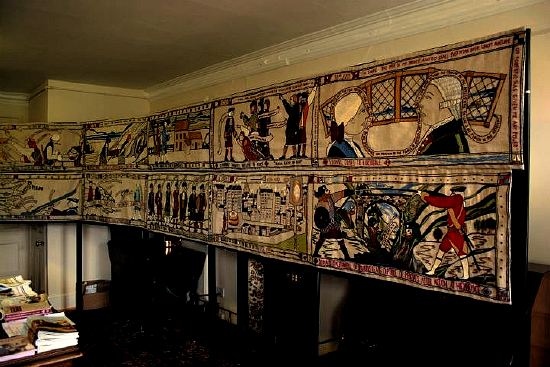 Cockenzie Weekend II looms

This Newsnet is a quick reminder that the tapestry is still at Cockenzie House this coming weekend ... Saturday and Sunday February 18th/ 19th - 11 am till 4 pm both days. There's tea and cakes and Primary School fund raising for the Cockenzie Bull as well when the artwork has been viewed .... and souvenirs to buy that are helping to fund the £2m Appeal for the eventual permanent home for the tapestry .... here in The Pans of course.

Perfect place to spend a weekend afternoon ....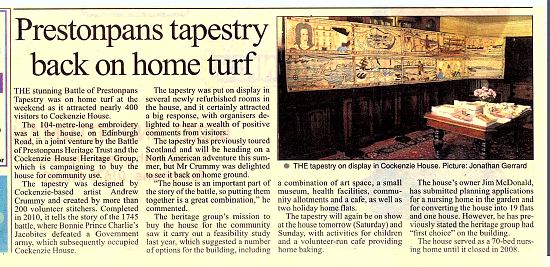 Published Date: February 17th 2012