Caroline Scott Honours our 1745 Battle and her B&B Wins the Day!
Longniddry B&B Wins National Channel 4 TV Show ... with an emphasis on history!

Caroline Scott, a Longniddry B&B owner who showcased her business on Chanel 4 hopes her star turn has helped "put East Lothian more firmly on the map".

Caroline, owner of The Dean B&B in Longniddry, appeared on Channel 4's Four in a Bed series last week [writes Kirsty Gibbins in the East Lothian Courier]



... . . . and was crowned the winner of the reality TV competition.

Queen Caroline of the Nation's B&Bs

The Four-in-a-Bed show involved four B&B owners competing against one another, as they each tried out the hospitality and facilities of their rivals. The contestants then had to decide how much to pay for their stay and who won the coveted title of peer-assessed 'Best B&B'.

Caroline was invited to take part in the series by its producers and, in a whirlwind fortnight of filming in May, the mother-of-two travelled afar - Great Yarmouth, Cambridgeshire, and Temple Cloud near Bath - to stay with her competitors. Each competition in the series was aired over five days and Caroline was the final contestant judged.

Her hosting of the group at her five-bedroom B&B was broadcast on Channel 4 on Thursday November 3rd. You can view it [you'll have to track through!] LINKED HERE.

She told the Courier: "It was an extremely stressful experience being surrounded by all those people every day and being filmed the whole time. I took complete stage fright but the Channel 4 crew never failed to be anything other than supportive."

As the host, Caroline took her guests to the site of the Battle of Prestonpans and gave a talk to the visitors on Bonnie Prince Charlie's victory.

One of her guests declaring she was "bored" by the history lesson - before the party was confronted on the Battle Bing and enlisted for battle by a marauding band of 'soldiers' from the Alan Brecks Prestonpans Volunteers!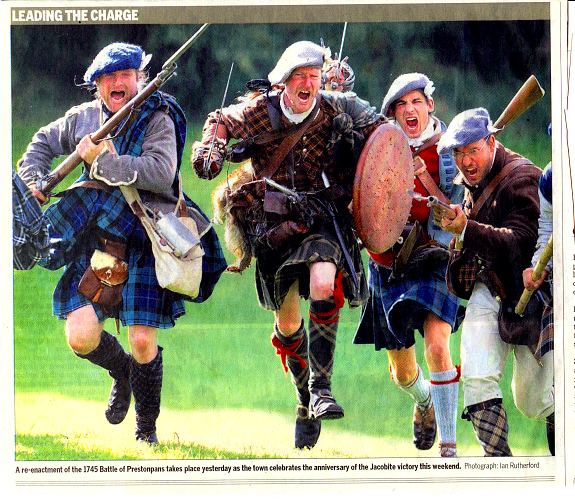 Caroline, originally from Aberlady, said: "I am fiercely proud of being Scottish and the history of this area and views. I wish it hadn't been so windy but the piper was fantastic and the [Alan Breck's - pictured last September] who came for the day were truly spectactular."

Her guests also enjoyed dinner at Greywalls restaurant, Gullane!

Despite a "haphazard" but "entertaining" breakfast that left a stressed Caroline confessing to the cameras that she had become "unhinged", she was served with first place in the competition. The result were aired last Friday.




Caroline's rivals were all willing to pay full price for their stay at her B&B - not usually the case on the programme - while one contestant even added a £13 tip to the £80 asking price, after being bowled over by the "absolutely gorgeous" views from her room.

The Dean, the B&B which Caroline has run for three years now, was also the only one of the four venues which all contestants said they would like to return to!

"The comments from the other contestants were incredibly generous. I found them quite overwhelming," Caroline said.

"I thoroughly enjoyed meeting them all and I think we will be friends for life. Though it was a stressful couple of weeks it was most interesting to see how other businesses do things - a wonderful chance to learn from others."

Since the show was aired last week, Caroline has received a flood of fan mail from all over the UK.

"I have had an enormous response since the show aired," said Caroline. "Someone emailed to tell me I now have a fan club in Prestonpans and I've had people stop me on the street to tell me they found the show hugely entertaining.

"If this has helped to put Longniddry, the Battle of Prestonpans and East Lothian at large better on the map then it's been worth it. And I'm glad I was able to do my bit to promote this beautiful county of ours!"



Published Date: November 10th 2011