<<< ... Gang Agley! ... N.B. REVISED DATE >>>TAPESTRY BACK IN THE PANS FOR CHRISTMAS - December 2nd - 7th
URGENT UPDATE .... because of the Strikes taking place on November 30th the Battle Trust has been told it may NOT repeat NOT use the Town Hall that day. So, that means the Pans Exhibition will commence on FRIDAY December 2nd @ 12 noon ... Apologies to one and all .. best laid schemes o' mice and men aft gang agley ...

Well managed for Christmas ...

As readers of these NewsNet blogs will know, since the Tapestry completed its Highlands & East Coast Tour with its display at the Community Centre in The Pans, September 2010, it's attracted another 50,000 visitors. It's been to The Dovecote and The National Story Telling Centre, to Paxton House on the Borders, to Kirkcaldy, to St Mary's Cathedral in Edinburgh where the Cultural Chair from Bayeux and HRH The Princess Royal both visited, to St Mary's in Haddington, and to the Knitting & Stitching Exhibitions at Alexandra Palace in London and Harrogate in Yorkshire.

The great news is that all those visitors far and wide have been singing its praises, and between them they have contributed the staggering sum of £64,000 [and rising] into our collection drums and via charity donation forms towards its eventual home. But it's been a big challenge for Dorie Wilkie [Lead Stitcher and now Trustee responsible for Tapestry TLC] with her team to keep the steam iron at work between exhibitions and the odd spot of darning and so forth. And it's been no mean job for Arran Johnston to arrange and lead the touring programme - whilst also planning for 2012 .... of which more soon/ later!

All very, very well of course, but how about another look, a reminder even, of what the excitement is all about here in The Pans? Popular demand, frequently heard, has been that we've done insufficient exhibiting in our own community. And so, listening as we should, we're pleased to announce a somewhat idiosyncratic schedule at our own Town Hall.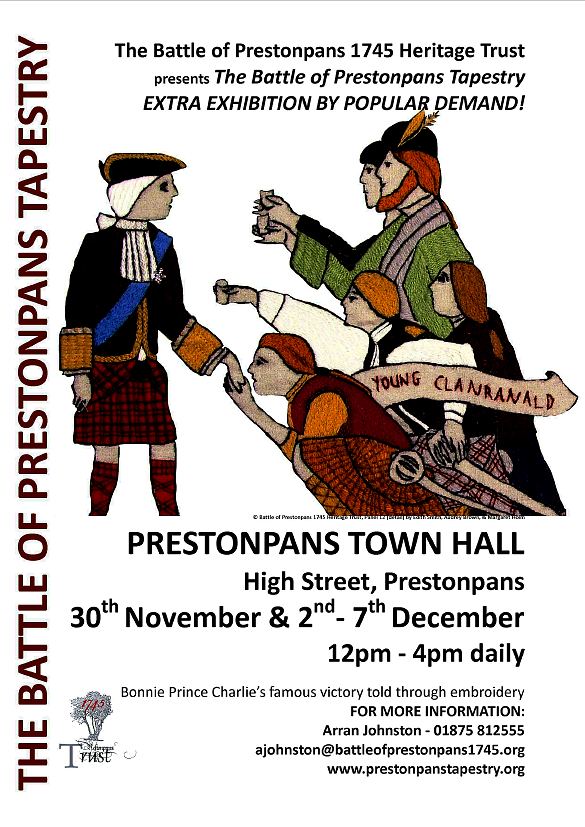 It's idiosyncratic because of course the Town Hall has all manner of regular goings on going on in the run up to Christmas. But with lots of goodwill all round, the Tapestry will be on view from 12 noon/ 4 pm daily on November 30th and from December 2nd/ 7th at the same times.

First chance to see and buy the new Tapestry merchandise in The Pans ...

Many visitors look for souvenirs of their visit to the Tapestry, and the earliest and best selling remains the full colour Official Guide published in July 2010. It will be on sale for £20 paperback/ £30 cloth. But many, less costly, souvenirs have been added since!

- Excellent CD from Greentrax of the Music of the '45
- Fascinating DVD, Stitches for Charlie, telling how and by whom it was all created
- Jig saw puzzles taken from panels - for adults and youngsters
- Posters also taken from panels
- Greetings/ Correspondence cards with selected images
- Choice of Tea towels of the panels
- Linen carrier bags with Fleeing Redcoats!
- Mugs galore with selected designs
- Colouring book + crayons option for youngsters
- Johnnie Cope and Bonnie Prince ballpoints
- 4 novels on the Prince's Campaign and more
- 2 historical books - Literature from the Campaign and analysis of 'The Prince's Valour'

.... and more coming next year, the DVD of an animated version of the Tapestry with Commentary in Scots English and French and a printed TinTin cartoon presentation for youngsters also in Scots English and French! But that's for next year when the Tapestry will be at Pornichet, St Nazaire in France.

So too will the Visitors' AudioGuide become available next year, for rental and in several languages.

PLEASE COME, INDEED COME AGAIN AND AGAIN to the Town Hall to see this extraordinary artwork that we have created .... but take care to note we're open 12 noon / 4 pm and that's on Wednesday November 30th but closed Thursday December 1st. But we're then open again Friday December 2nd through to Wednesday 4pm on December 7th. That includes Saturday and Sunday of course ....

... and if you're a keen volunteering embroiderer, or just a wannabe learner, be sure to register to get involved in the two, yes two, new embroidered artworks currently in the frame at the Arts Festival - Sandy MacCall-Smith's sponsored Great History of Scotland and the EventScotland Homecoming 2014 Tapestry of Scotland's Diaspora.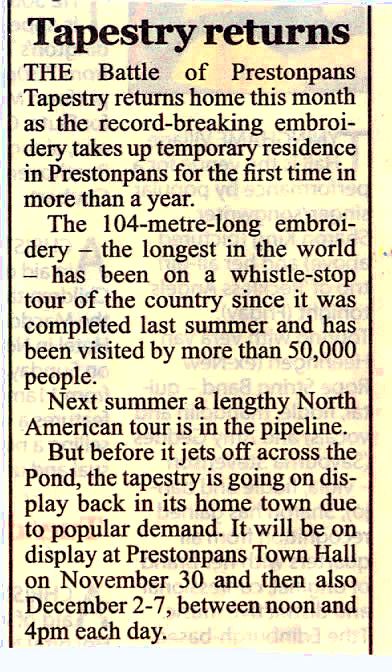 Published Date: November 28th 2011