Celebrating on November 20th: It's the 10th Anniversary of Prestonpans Murals
Well would you believe the Prestonpans Murals programme is 10 years old this year?

Kate Hunter's [the 1st] Mining Mural was unveiled on November 29th 2001 - her earlier Work in progress LINKS here

This month, November 2011, tucked away by the Labour Club, Michael Jessing's mural [our 55th public artwork] honouring the working men and women of The Pans nears completion ...




What a ten years it's been.

When Gordon Prestoungrange first came to The Pans, little did he or any of the rest of us realise how 'his' idea would grow and flourish to create not only 50+ murals and accompanying literature, but a whole range of visual arts, drama, music, festivals, totem poles, Fowler's Ales, Wiles' bus, Cuthill Park occasions, 1745 battle re-enactments, witch pardons & remembrance, salt making, novels, story telling, a world-beating/ touring Prestonpans Tapestry [with two more to come], plans for a renaissance at Prestongrange Heritage Museum, and restoration of our beloved arts and crafts Goth. And there's much more!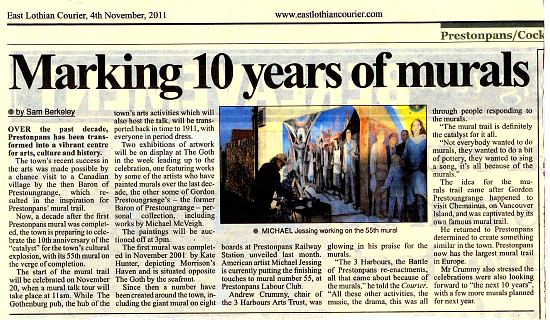 Everything achieved showing just what can be achieved if we don't wait for Godot!

On the 20th November there will be a celebration of this first decade, and of course we'll take a look towards the next 10 years.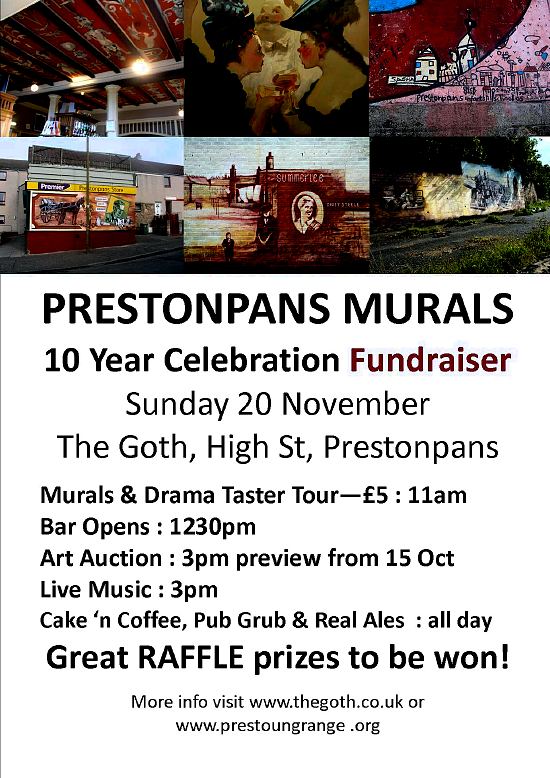 DRAMA AND MURAL TOUR OF THE GOTH

Our plan on November 20th is to have a tour of the murals inside The Goth and weather permitting a wee walk outside as well, with the Prestoungrange Players taking the Bar back to the early 20th century when James Fewell was the Manager. So it's murals, drama and a bit of a song. All for £5 per head.

It all starts at 11 am.

ART AUCTION OF ARTISTS' WORK

In the afternoon we'll have an Auction to raise money for the Prestoungrange Arts Festival. We are asking only the muralists/sculptors involved in the last 10 years if they would wish to auction one or two paintings. We aim to create an interesting and unique exhibition, with reserve prices on each artwork.

The exhibition will be on view for the week prior to the Auction, which will be on Sunday afternoon, November 20th. We will have an auctioneer and those who wish to place a bid have to be present at the Auction.

AUCTION OF BARON COURT ARTS COLLECTION

We will also be raising funds through auctioning a range of The Baron Courts Arts Collection across the decade, including works by Michael McVeigh.

NEXT TEN YEARS

As you know The Baron Courts major annual funding for the Arts Festival ran for 13 years in all, but is now coming to an end. To maintain the present 55 artworks, and create new ones, regular fundraising events will become more of a feature. Of course The Goth will continue to act as our Arts Hub and as it goes into profit, 95% of that profit goes back into supporting the arts.

So it makes great sense for much of our activity to support
The Goth to generate more income through events, and generally dining and drinking there. And we will of course continue to apply for for external funding, with other local partners to generate and support more our arts activities.




Published Date: November 1st 2011