Prestonpans' Witch Remembrance and Story Telling Ceilidh: Sunday October 30th
1 pm Remembrance of the Town's 81 Witches

The Prestoungrange Gothenburg in Prestonpans is getting ready for an afternoon of witch and Hallowe'en events on Sunday 30 October.

At 1pm the traditional Witches Memorial takes place, commemorating the tragic deaths of the 81 local people wrongly accused of witchcraft and executed in the 15th and 16th centuries.

The ceremony will feature music and drama from the Prestoungrange Players, and the laying of healing herbs at the mural dedicated to the innocent victims in the Goth's rear garden.

An afternoon of storytelling and fun then follows from 2.30 pm – 7 pm with a Traditional Family Hallowe'en Storytelling Ceilidh.

Storytellers, musicians and actors will come together to provide a unique Hallowe'en experience for all ages, with the promise of laughs as well as chills.

This event is the brainchild of local storyteller Tim Porteus, who is keen to provide entertainment that will bring families together.

Tickets cost £5 for adults and £2 for children. They can be bought at The Gothenburg [closed Mondays] in person, or reserved by calling 01875 818355.

Further information from:

Tim Porteus - Ph. 07898 267139 /01875 818355
Andrew Crummy - Ph. 07986 352188

The Witches Remembrance event last year is pictured below with the Prestoungrange Players. All 81 names are shown on the tiles.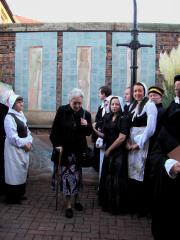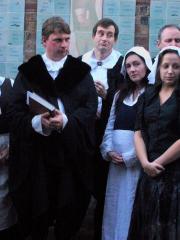 Published Date: October 19th 2011