Prestonpans Downline Railway Murals Story Telling Completed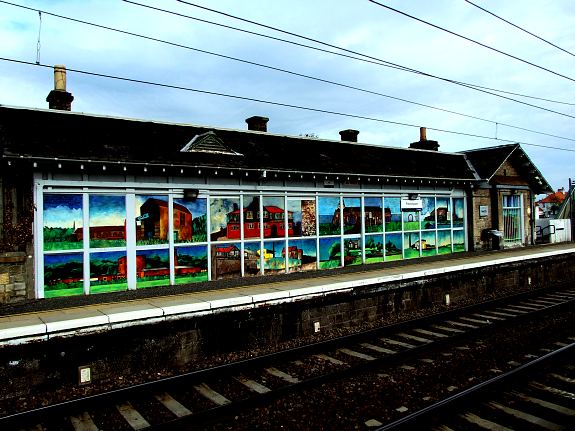 Second and Final Downline Mural has now been unveiled!

This large, Pans Landmarks Mural, has taken a year from conception and funding search at Awards for All to the completion and launch. Complementary funding also came from ELC and PAF.

The whole project has been led by Adele Conn, who completed Part 1 surroundng the old Ticket Office three years ago linked HERE

On this second and final artwork she shared the painting with four groups: [i] Prestoungrange Arts Club, which painted the Beam Engine; [ii] Pennypit Special Needs Youth Club, which painted the Prestoungrange Gothenburg; [iii] Prestonpans Adult Physical Disability Resource Centre, which painted Prestongrange Church; and [iv] Prestonpans Adult Physical Disability Resource Centre working with other members of the public, who together painted Cockenzie Power Station.

These four groups completed the top 16 boards.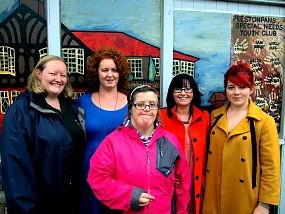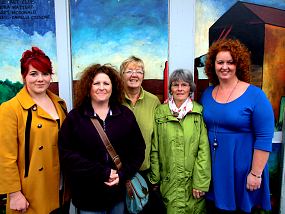 The 16 boards underneath were painted by Adele Conn and her apprentice student from Preston Lodge School, Maia Aitken. These show where precisely you will find the landmarks. The Beam Engine is at Prestongrange Mining Museum; The Gothenburg is shown from the beach with the seawall murals and totem pole; the Church is painted from the High Street; and the Power Station from the green hills. The Mercat Cross [far right] is the final landmark which was painted onsite.

This mural will be entered into the ScotRail Community Awards next year and hopefully add an accolade to that already earnt for the earlier Station Ticket Office.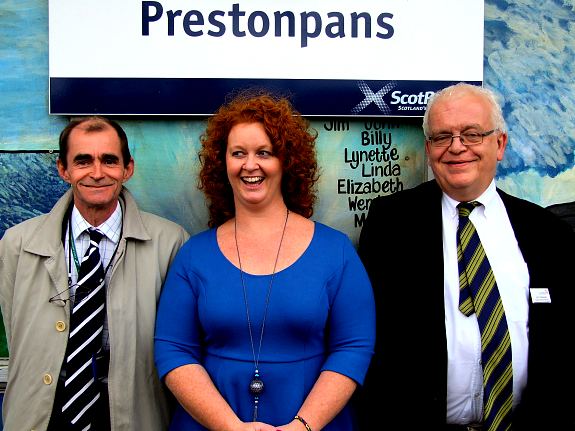 Adele [pictured above with Prestonpans Councillor Willie Innes left, himself an artist, and John Yellowlees, ScotRail's External Relations Manager] commented at the enveiling: "This is a mural I am especially proud of, working with such fantastic, talented and positive people in our community. It is so lovely to see the smiles on people's faces when we all see what we have together been able to achieve."

John Yellowlees added: "Our adopt-a-station policy at ScotRail is all about putting railway stations at the heart of their communities, and we are delighted that Adele Conn has taken Prestonpans Station to the heart of its town by introducing people arriving there to some of the best landmarks they can look out for during their visit."


Published Date: October 4th 2011