Cope Returns to Haddington - as the Prestonpans Tapestry recounts @ St Mary's September 10th/ 15th
Cope Returns to Haddington .... September 10th/ 15th 2011 .. he's at St Mary's Church: 11 am/ 4 pm [Sunday 1.30pm/ 4pm]

He arrived at Dunbar from Aberdeen by barge with his redcoat army which had already been wrong footed in the Highlands. From Dunbar he moved as swiftly as he could towards Edinburgh and his first stop was Haddington. En route his soldiers passed through a host of local communities and interrupted a wedding!

From September 10th/ 15th at St Mary's in Haddington the whole story of the Prince's successful campaign from Eriskay to Prestonpans and Edinburgh can be revisited in the panels of the outstanding Prestonpans Tapestry.

A series of events is also being organised and full details will be posted here at the website as soon as they are finalised.

If you've not yet had a chance to see this exceptional and widely acclaimed artwork, [or simply must see it again], be sure not to miss this opportunity. In October and November it's heading south of the Border to Alexandra Palace in London and then to the International Exhibition Centre in Harrogate. It will be at St Nazaire in France in the Spring of 2012 from which the Prince embarked, and off to Canada / New York throughout the summer.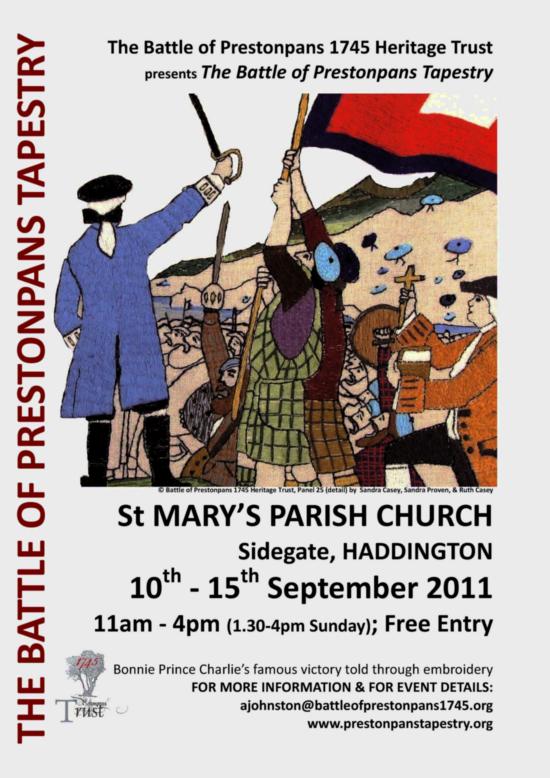 Published Date: August 30th 2011