Lt. General Sir John Cope CB - as pictured by the Trust
Cope: from Caricature to Portrait - thanks once again to Kate Hunter

Readers here may recall there was a problem in 2010 when the long-accepted portrait of Prince Charles Edward in the Scottish National Portrait Gallery was re-designated by experts as his young brother, Cardinal Henry. The Trust's response was to invite the celebrated local muralist Kate Hunter to paint a new portrait of the Prince drawing on all available evidence.

Kate Hunter has once again been commissioned by the Trust. This time she has created a portrait of the Prince's adversary in Scotland in 1745, Sir John Cope [1688-1760], the Johnnie Cope of folksong lore. In Sir John's case she had far less to go on. The only recorded visual depictions of Sir John were [i] the famous, lampooning cartoon after his defeat at Prestonpans - it positions him arriving at Berwick-on-Tweed to confirm his defeat to Lord Kerr [and Andrew Crummy has captured that same cartoon in the Prestonpans Tapestry as embroidered by Kate Edmunds]; and [ii] a painting circa 1730 by William Aikman. It was one of a collection of 17 family and friends commissioned by Lord Hobart for Blickling Hall in Norfolk. It still hangs in the keeping of the National Trust at Blickling Hall today.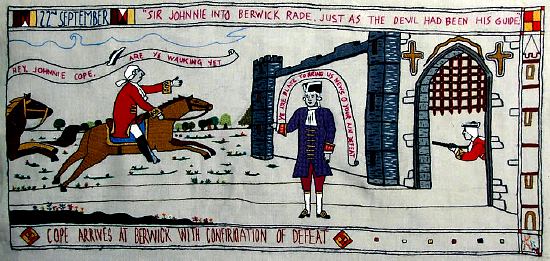 John Thompson, writing in the Journal of the Scottish Military Historical Society Dispatch 134, August 2007, suggests there may also have been a third depiction held at Ashdown House, Berkshire. It's no longer there and was most probably sold with other artworks.

The Blickling Hall portrait shows Cope in military uniform. In 1730 he was Colonel in the 1st Troop Horse Grenadier Guards, moving to become Colonel of the 39th Foot in November that year.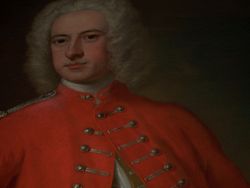 He was a favourite of King George II and rose through the ranks of Brigadier, Major and Lieutenant General, eventually being created Companion of the Bath [CB] for distinguished conduct at the Battle of Dettingen in 1743. This was followed immediately by his command in Edinburgh in December.

Kate Hunter, with advice from Trust historian Arran Johnston, now shows the uniformed Lieutenant General Sir John Cope CB in 1745 as Commander-in-Chief: Scotland.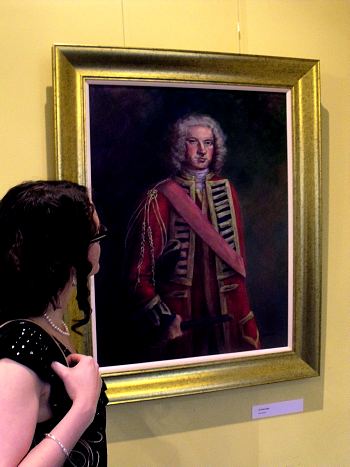 Published Date: January 1st 2012