Blogging from 3Harbours ... and next weekend still to come!
3Harbours Launches with Preview at Cockenzie Power Station

3Harbours, led by Eddie Anderson, was able once again to create an excellent display of art at Cockenzie Power Station in its Hall. And that was where the Festival held its preview launch on Friday last, May 27th.

click to enlarge all images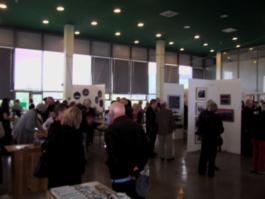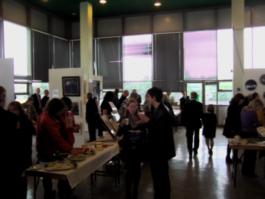 The following day, despite much wind and occasional lashing rains, saw the Cockenzie and Port Seton Gala bring its usual pleasure to one and all. The only casualty was Seton Queen Milli Fleming and her entourage not being ferried from Cockenzie Harbour to Port Seton Harbour - but the boats put to sea and fought their customary battle.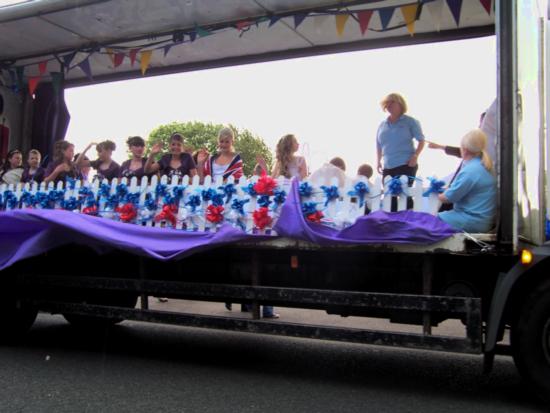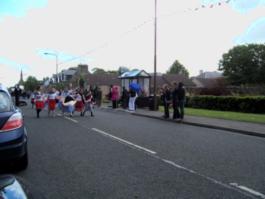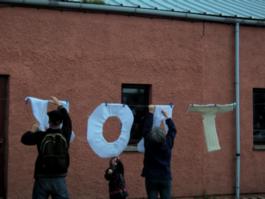 Prawn Fisher of the Week went to the Sea Spray, skippered by Alex Mack and owned by Robert Johnston. Best Dressed Fishing Boat was won by Robert Thomson and his boat Emma Jane.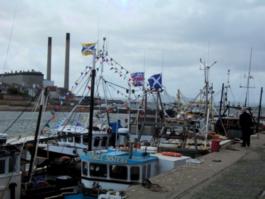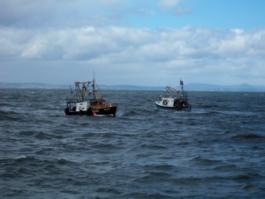 Cockenzie and Port Seton Community Council also gave artist Andrew Crummy its Exceptional Achievement Award for his work in chairing the fast-growing 3Harbours Arts Festival. Andrew has of course convened the successful Prestoungrange Murals Programme since 2000, and lately designed the widely acclaimed Battle of Prestonpans Tapestry. Now he's working on a new design with Sandy MacCall-Smith, The Great Tapestry of Scotland - telling our nation's history.

Windows Galore, Open Houses, Queueing @ The Goth and Music ...

Much much more of course to see and hear. The Miners' Gala was premiered at the Pans Community Centre on Tuesday to a full house and much acclaim. It's now off touring East Lothian raising donations and entrance fees for the Pans long awaited Miners' Sculpture. Sixties Fashions on stage - and in the audience - were in review at Prestongreange Museum. And they were queueing at The Gothenburg over the weekend - great food, Gothenburg Porter, music, elegant new signage and inclement weather all brought them in! Across the road on the sea shore Ronnie Elliot was at work, weather permitting, on his new mural ..... but Tom Ewing has still not had the chance to restore the fading stains on the Totem Pole. It's now 5 years since it was erected and one of those involved is back from BC in Canada taking part in the Murals Fest ....

There was a second casualty to the weather - the Food Fair at Cuthill Park planned for Sunday 29th May. With high winds and rains correctly forecast the viability of an outdoor marquee based celebration had to be sacrificed. It's very much to hoped that it will be back next year and that the next Outdoor Big Lunch in Cuthill - Sunday June 5th, will make up for it!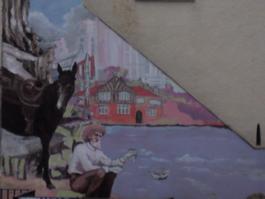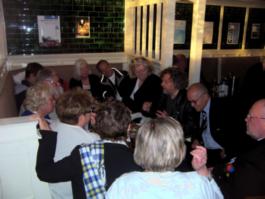 That's not all at Cuthill of course. Tom Ewing is once again convening the Annual Mural Fest with six artists working over the coming weekend. It's always a delight to watch as the artworks emerge and the stanbdard has always ben very high indeed. The winner in 2009, Michael Jessing, went on to join the Arts Festival and is currently creating the new mural at the Labour Club.

... and Yes, 3Harbours is developing its own Fringe!

From the Fringe at PP Infants School on Thursday June 2nd came a fascinating production led by community Story Teller Tim Porteus. He had the whole school, staff and students from PL, Alex Hodgson and Carol Melrose in a 45 minute history of PP from Johnny Moat through salt [pictured first below], miners, pottery and the rest .....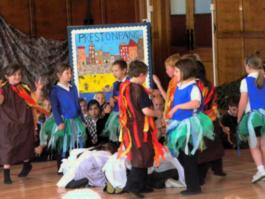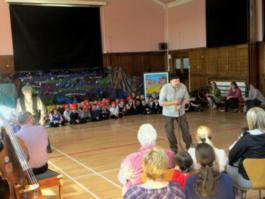 ... PS ....

... with Steamies at work relaying the railway sleepers and track at the Museum, can the future be even brighter?






Published Date: June 3rd 2011