The Jacobites Occupy Kirkcaldy!
May 14th saw the Jacobites out in force at the Tapestry Exhibition in Kirkcaldy

Visitors have been flocking to Kirkcaldy Museum and Art Gallery for over a week now since the arrival there of the Battle of Prestonpans Tapestry. Those who came on Saturday, however, were in for an extra treat, as the museum celebrated the Festival of Museums with the help of Alan Breck Volunteer Regiment.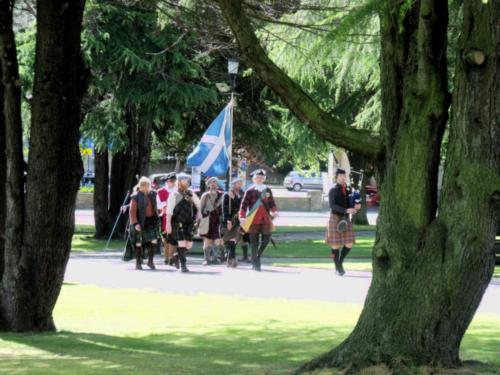 The sound of the pipes carried across the park heralding the approach of the Prince and his army who, [it has to be admitted,] were making a diversion for the occasion from their march south to capture Edinburgh. The army was in good cheer, as was the weather, and there were many huzzahs and cheers for King James. When they reached the museum, Regent Prince Charles Edward addressed them – and the gathering crowd - from the Museum's balcony, proclaiming his father's rights and exhorting his men to great endeavours!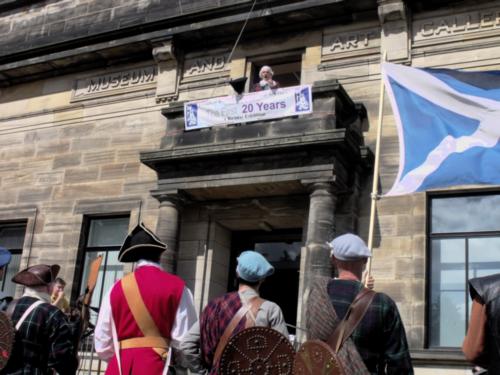 The army then marched on to the park, where it spent the day explaining the '45 to an eager public. The Prince held regular reviews, describing to the audience the weapons and clothing his men were carrying, and his hopes for their future effectiveness! Displays of sword fighting and drill training occurred throughout the day, and a captured British cannon was proudly displayed.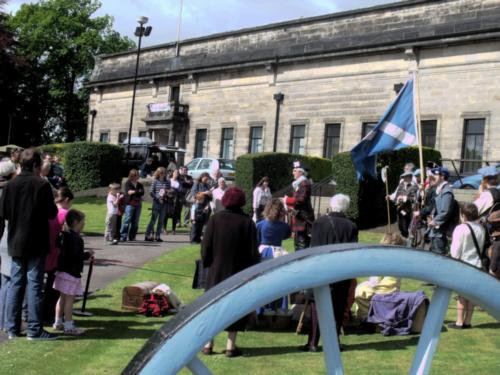 Inside the Museum, whilst the adults explored the Tapestry, the children were treated to demonstrations of how to wear the great plaid – and had a chance to try it for themselves! There were lots of activities and handling objects, and the chance to try out the Tapestry activity sheets which again proved a great success.

The event was organised by the Battle of Prestonpans 1745 Heritage Trust and Kirkcaldy Museum (Fife Council), supported by the Festival of Museums. The Alan Breck Volunteer Regiment hosted the living history, with the kind support of friends from Glenbucket's Highland Regiment.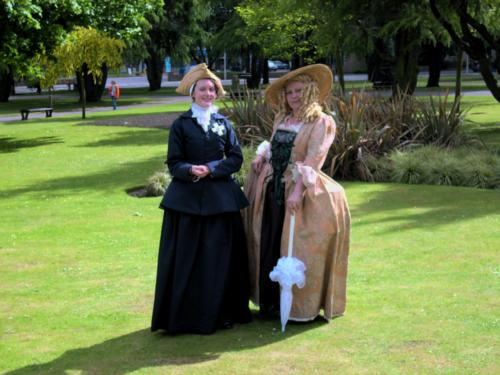 The Alan Brecks can next be seen at Haddington Festival, on Saturday 4th June.

Although the excitement of the re-enactment may have calmed now, there is still plenty happening during the Tapestry's continuing exhibition until June 5th in Kirkcaldy: on Wednesday 18th May there's the chance to meet some of the embroiderers involved in the making of the Tapestry, whilst on Wednesday 1st June Arran Johnston is giving a talk on the Prince's campaign, following the story in the Tapestry panels.


Published Date: May 17th 2011