The Great Cornish History Tapestry .... Tregellas Pope's inspiration ...
On cue, enter Cornwall's History ... beautifully told on Tapestry ....

Just as in Prestonpans, the dream in Cornwall some two decades ago, exemplified by the Cornish Bard, Rita Tregellas Pope, was to rebuild the community through a greater understanding of its history ...

The first step was to display the history of Cornwall in the form of an embroidered tapestry. The Tregellas Tapestry was conceived, designed and executed under the direction of Rita Tregellas Pope. She brought together a team comprising two designers, Joanna Tucker and Annie Corey, and a group of skilled spinners, dyers and embroiderers to create this unique record of Cornish history and culture from prehistoric to modem times.

It was completed in three years and comprises fifty-eight embroidered panels. The story shows how the Cornish took their goods and skills across the world through the centuries. Fact is interspersed with fiction, famous names interwoven with legend. Cornwall's contribution to world progress is depicted in peace and war, in religion and folklore. Miners, fishermen and farmers are remembered with pirates, priests and inventors in the Tregellas Tapestry.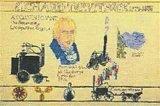 The embroidered panels were framed in 2000 as advised by the Royal School of Needlework. To mark the Millennium some panels were exhibited at different venues around the country, including Royston Museum, Hertfordshire, Helston, Marazion, Callington and at the Gorsedd in Falmouth.

The permanent display of the complete Tregellas Tapestry is to be seen at Cornish Studies Library, The Cornwall Centre, Alma Place, Redruth, Cornwall TR15 2AT

Opening hours are 10/5 Monday/ Friday; 10/ 4 Saturdays.

It is the first phase of the Redruth Education and Economic Arts Partnership. Alas there is no major publication containing all the images but small booklets and selected postcards are available.




Published Date: April 8th 2011