Prestonpans Tapestry Exhibitions: Venue Updates & Plans for 2011
... just in case you've missed these dates and venues in 2011 ...

The Prestonpans Tapestry will be on public view in Scotland virtually all the while until end September this year. Details are summarised below. If any Stitchers are able to assist, most particularly whilst the Tapestry is at St Mary's Cathedral during The Edinburgh Fringe in August, please be in touch with Arran Johnston, the Tours Manager [Ph. 01875 812555] or @ ajohnston@battleofprestonpans1745.org

PAXTON HOUSE April 1st/ 27th [excluding 9th/ 10th] 11 am/ 5 pm daily ..as seen below ...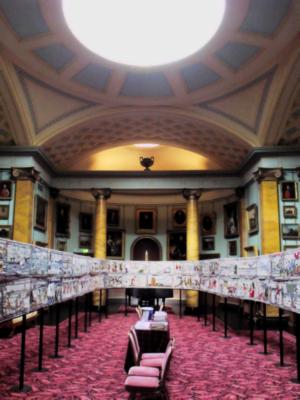 KIRKCALDY MUSEUM & ART GALLERY May 7th/ June 5th [Monday/ Saturday 10.30 am/ 5 pm; Sunday 2 noon/ 5 pm] Living History with Bonnie Prince Charlie May 14th; Meet the Stitchers May 18th; Guided Talk around the Tapestry June 1st.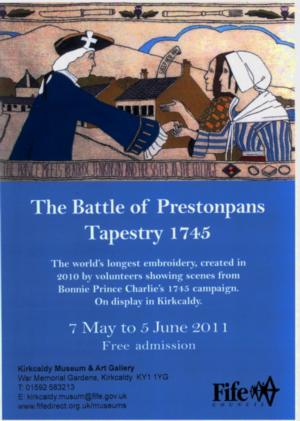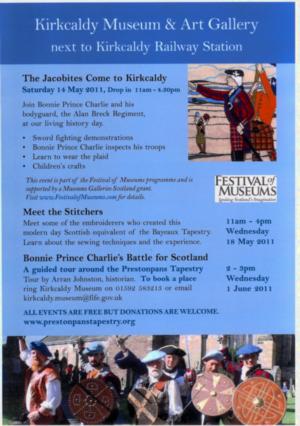 ST MARY'S EPISCOPAL CATHEDRAL EDINBURGH June 11th/ August 31st [Monday/ Saturday 11 am/ 4 pm closed 1pm/ 2pm ; Sunday 12 noon/ 3 pm] There will be many special activities during the 12 weeks particularly a Living History Day on Saturday August 6th.

ST MARY'S PARISH CHURCH HADDINGTON September 12th/ 16th [11 am/ 4 pm daily]

Details of all associated activities will be posted here at the website when confirmed; or contact Arran Johnston as above for details.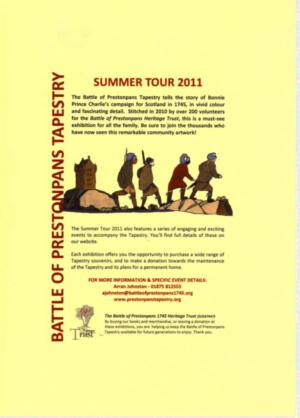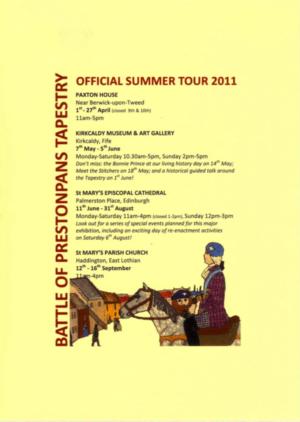 Published Date: March 25th 2011