Prestonpans Tapestry and Scotland's Barons DO mix ....
.... and Baron Kirkbuddo was Guest-of-Honour with comparative knowledge of Bayeux - since he's from Normandy!

The 6th Annual Barons' Day Celebrations and Dinner were convened at The Prestoungrange Gothenburg by Dolphinstoun, Lochnaw and Prestoungrange. Jean-Yves de La Sabliere, proud Baron of Kirkbuddo, [himself a Norman and neighbour of Bayeux,] was Guest-of-Honour and spoke up for the Auld Alliance and his personal determination to bring dignity to his dignity of Kirkbuddo in the noblesse of Scotland.

click to enlarge all images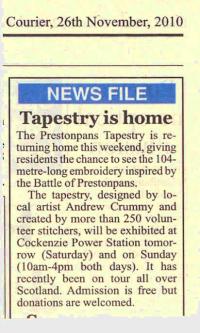 Celebrations were most considerably frustrated by the arrival of much snow across the whole East of Scotland [not least the canapes and private viewing of The Tapestry at Cockenzie Power Station], but many hardy ones stayed with the schedule Baron Sergeand Sylvia Burgess had once again so carefully crafted. Many stood pro parte baronis but Kirkbuddo was also joined by Inverquarity - canapes at Cockenzie Power Station where the Tapestry was on view from 5pm followed by the Banquet at The Goth at 7pm.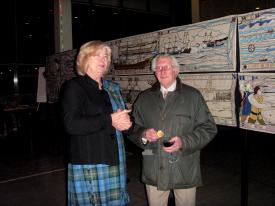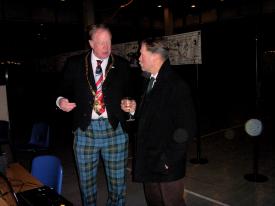 ...the occasion also recorded the retirement from active service of Gordon, 14th Baron of Prestoungrange ...

Mathew Wills, Younger of Prestoungrange, became infeft of Prestoungrange in February 2010 joining his younger brother Julian of Dolphinstoun in the ranks of Scottish feudo-Baronies. So this 6th Annual celebration ordained by the Barons' Courts in July 2004 to take place each November 28th was something of a farewell to Gordon as Baron in Prestoungrange. He now rejoices in the title of Bailie here and as Baron of Lochnaw. Kind tributes were paid by colleagues of Gordon including Jane Bonnar [pictured below with the Baron], founding Director of The Prestoungrange Arts Festival, the Poet Laureate, Jane's successor Dr Andrew Crummy and Gareth Bryn-Jones, incoming chairman of the Battle Trust. Honoured guests for the night of course included the brilliant team who run The Goth - Anne Taylor, Carol Black and Chef Andrew Laurie [with his wife Audrey second from left].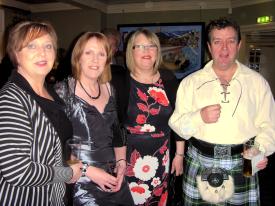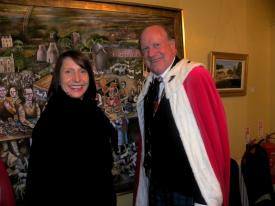 ... and there were kind gifts too ... Dorie Wilkie presented the 'largest pin cushion' in the world, Shona Brash created a stunning piece of glass - and Andrew Crummy's new portrait of the 14th Baron was unveiled. All can be seen below.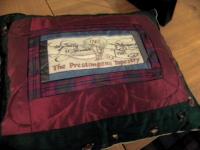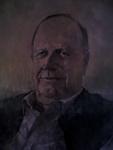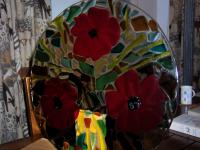 P.S. The Poet Laureate John Lindsay's observed ...

THE COUTHY DAYS O'PRESTOUNGRANGE
Now Prestoungrange baith glad and straight
Retires respeckit frae this stage
O' arts daft drama
For naebody has done mair than he
Tae tune the reed o'local glee
And I maun state our mighty debt
Tae Gordon Prestoungrange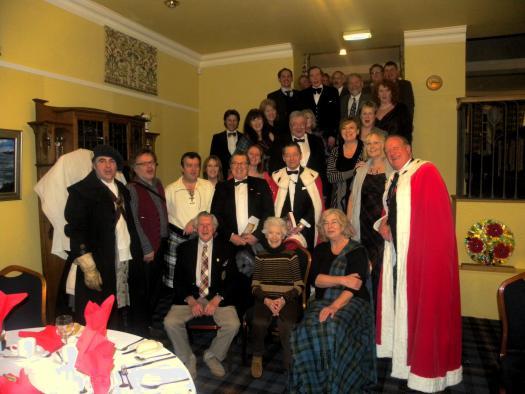 Published Date: December 3rd 2010