Liberty's in every blow ! Congratulations to Bannockburn from Prestonpans ...
Grand News! Scottish Government Backs Bannockburn with £5 million investment ...

2014 will see the Commonwealth Games, the Ryder Cup and the Year of the 2nd Homecoming in Scotland and Bannockburn is now on course to offer visitors there a brilliant interpretation. Historic Scotland will work in partnership with the National Trust for Scotland to create the additional facilities.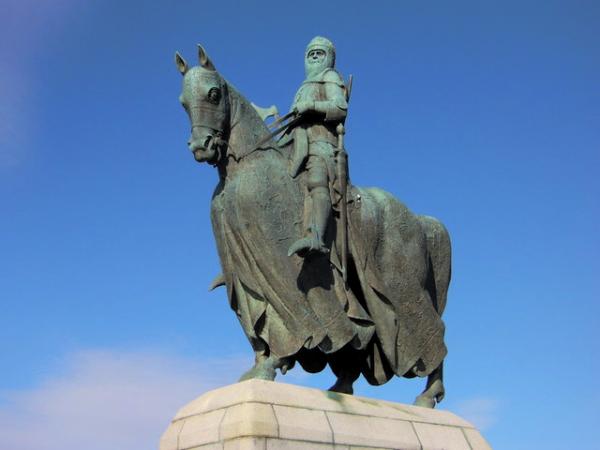 Culture Minister Fiona Hyslop stated: "It will be a world class attraction offering a real flavour of the 14th Century battle. The investment will increase visitor numbers by 30% and set new standards for Scotland's tourism industry giving an immersive digital experience.

" The regeneration project will have a positive impact on the Bannockburn Heritage Centre, the local community of Stirling - already looking forward to unveiling the £12 million Stirling Castle Palace Project - and Scotland as a whole.

"A new visitor centre will bring leading edge digital interpretation and establish the site's position as one of the most historically and culturally important places in Scotland during the battle's 700th anniversary year."

Against such a background of commitment by government, all seems well set for the Battle Trust's own plans ....

... seems crystal clear. If Culloden and Bannockburn can gain such high levels of government backing, so can Prestonpans. Our Appeal for funding begins in earnest later this year as Parliament at Holyrood is petitioned and our Prestonpans Tapestry campaigns for its own permanent home.

Bonnie Prince Charlie paused at Bannockburn in a show of respect on September 14th 1745 during his march to Edinburgh, and dined at Bannockburn House.

___________________________________________________________

[Ed.] Robert Bruce's great Scottish victory at Bannockburn over England's King Edward II on June 23rd / 24th 1314 was complete. Although full English recognition of Scottish independence was not achieved until more than ten years later, Bruce's position as King of Scotland was immensely strengthened by the outcome.

The precise location of the battlefield is unclear, but a modern, abstract monument stands in a field above the battle site, where the warring parties are believed to have camped on the night before the battle. The monument consists of two semi-circular walls depicting the opposing parties. Nearby stands the 1960s statue of Bruce by Pilkington Jackson shown above. The monument, and the associated visitor centre, is one of the most popular tourist attractions in the area.

In 1932 the Bannockburn Preservation Committee, under Edward Bruce, 10th Earl of Elgin and Kincardine, presented lands to the National Trust for Scotland; further lands were purchased in the sixties to facilitate visitor access.

Scots Wha Hae is the title of the patriotic Burns' poem, and the chorus of Scotland's unofficial anthem Flower of Scotland refers to Scotland's great triumph over Edward and the English at Bannockburn.

Scots, wha hae wi Wallace bled,
Scots, wham Bruce has aften led,
Welcome to your gory bed
Or to victorie!
Now's the day, and now's the hour:
See the front o' battle lour,
See approach proud Edward's power -
Chains and slaverie!

Wha will be a traitor knave?
Wha can fill a coward's grave?
Wha sae base as be a slave? -
Let him turn, and flee!
Wha for Scotland's King and Law
Freedom's sword will strongly draw,
Freeman stand, or Freeman fa',
Let him follow me!

By Oppression's woes and pains,
By your sons in servile chains,
We will drain your dearest veins,
But they shall be free!
Lay the proud usurpers low!
Tyrants fall in every foe!
Liberty's in every blow!---
Let us do, or die!







Published Date: October 13th 2010