21st September 1745 'Celebration Mugs' for Sale ...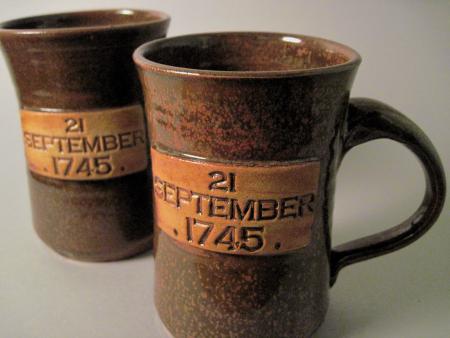 These splendid tankards/ coffee mugs are still available at The Prestoungrange Gothenburg ..

.... and the deal remains the same. Pay £12 each and you can get the tankard/ mug filled with a half pint of Prestonpans Ale or coffee - the choice is yours and you get to keep the mug!

They were crafted by Avesha DeWolfe especially for the Battle Trust's annual celebrations and went on sale this year, 2010. Many may have seen her work in Exhibition at the 2010 3Harbours Festival.

P.S. If you find Avesha's work as compelling as we do at the Battle Trust, check out her website at wwww.aveshadewolfe.com

...... or call to meet her at her Bridge Street Studios, 1 Bridge Street, Portobello.



Published Date: October 12th 2010