VII: Full Marks to Kris Cunnngham as The Papers Tell All
Unsung Heroes they maybe, but we all like the results ...

Kris Cunningham and more than a few colleagues have spent the last seven years helping ensure that our Prestonpans arts activities get good publicity. The wildest achievement until this summer had been when we addressed the town's Witch Heritage, but we quickly resolved to ensure that we did not become Scotland's Salem. No follow through there. However ....

Since July 26th when the Prestonpans Tapestry made its debut on the nation's stage, just about every newspaper/ news-sheet across the Highlands, the nationals here in the Lowlands, the Courier and News in East Lothian, STV, BBCtv, BBC Radio 2's Chris Evans Show, BBC Radio 4, BBC Alba, Reuters [they certainly reached the Natal Mercury in South Africa] .... websites by the dozen, Facebooks, YouTubes and more .... all have carried our story and it frequently includes Ian Green's brilliant Greentrax CD and the 2010 Re-enactments in Cuthill Park.

And there's much more to come. The Arts and Battle Trusts are both determined to keep this 'joint' story running nationally and internationally until the dreamt of Living History Centre and Tapestry Pavillion are created at Prestongrange Heritage Museum. In the autumn months a formal Appeal to Fund the Tapestry Pavilion will be launched, and the Tapestry will continue to tour across 2011.

A selection of recent print coverage appears below. Pride of place to Glasgow's Sunday Herald columnist who thinks Tranent's Belters are Trannies ... and continues Glasgow's traditional disdain for all things Bonnie Prince Charlie. Yet it was he and Cameron of Lochiel that dissuaded the Highlanders from burning the city down in December/ January 1745/ 1746 for their antipathetic behaviour then!

click to enlarge all cuttings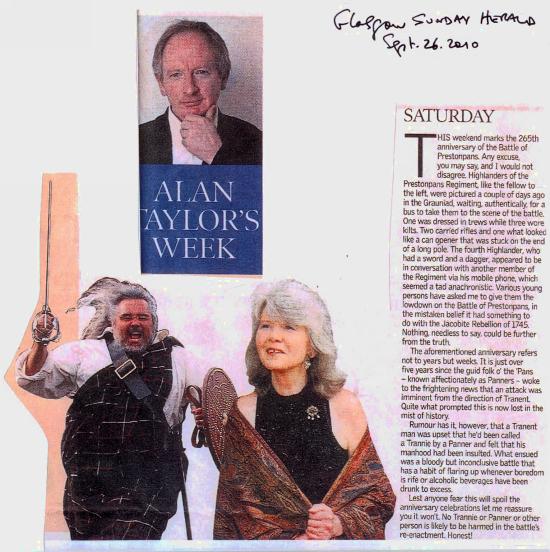 Tony Marsh's photocalls a few days before the re-enactment were widely appreciated!

.... in particular the notion of taking the bus or car to get to the battle itself. The Guardian had Highland Bling; The Herald Riding Shotgun; EL News suggested Forming an Orderly Queue for the 1745; and The EL Courier opted for the automobile with the injunction to ditch that and the mobile phone!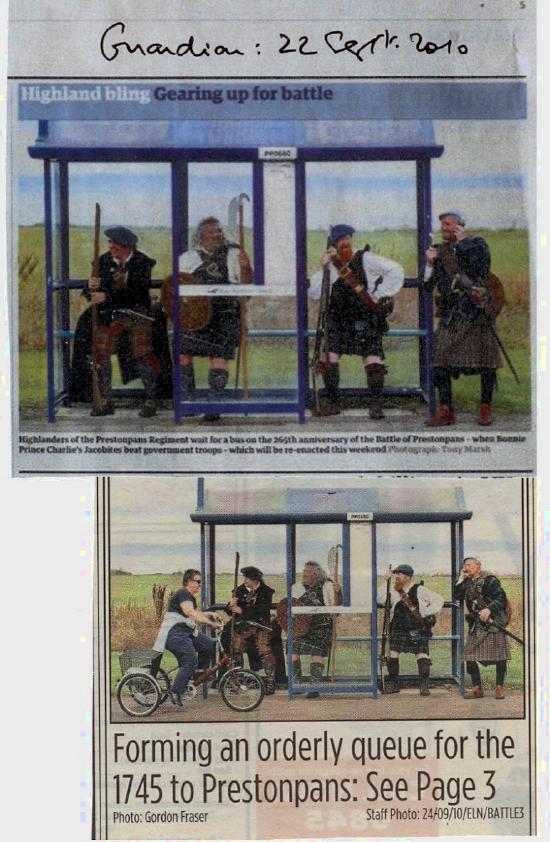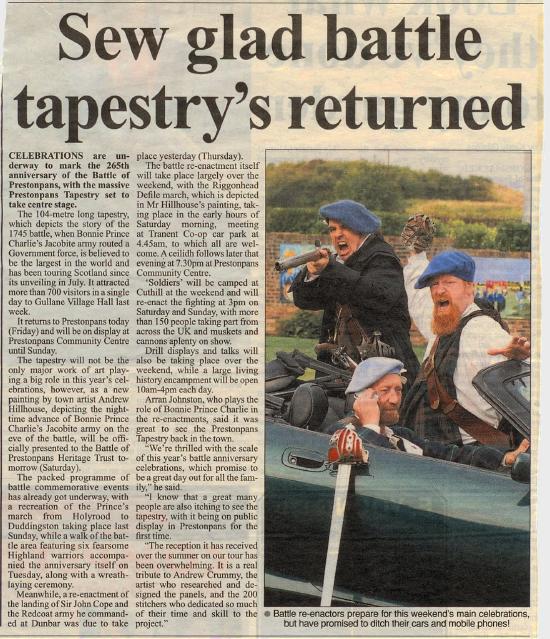 Each also carried the story of what was planned. Intriguingly Andrew Hillhouse's fine new painting of Marching the Riggonhead Defile in 1745 took the fancy of the EL News - the painting was unveilied after the 2010 Anniversary Walk by 60+ at 5 am in the morning. And The Scotsman liked Tony Marsh's image of Alan Breck's Highlanders outside Cockenzie Power Station - they're good friends of the Battle & Arts Trusts and the upcoming weekend venue for the Prestonpans Tapestry November 27th/ 28th.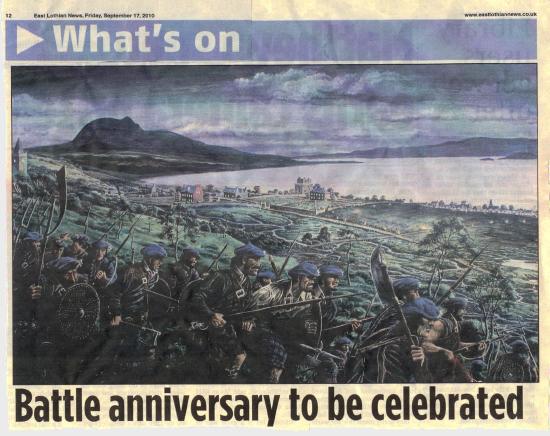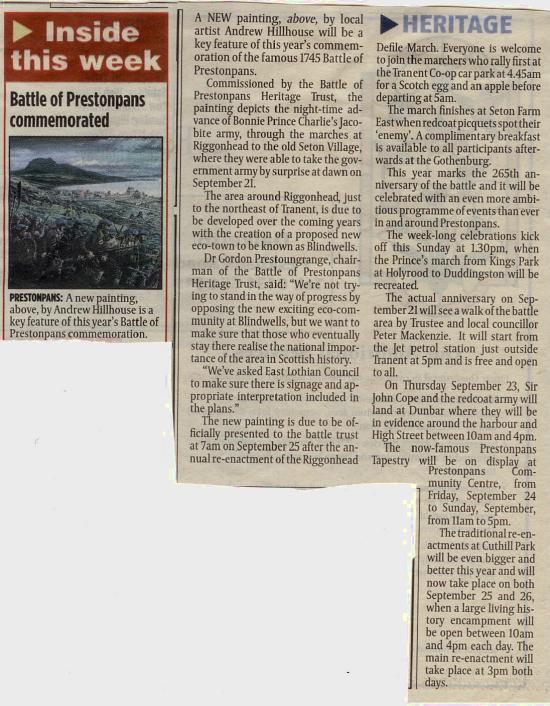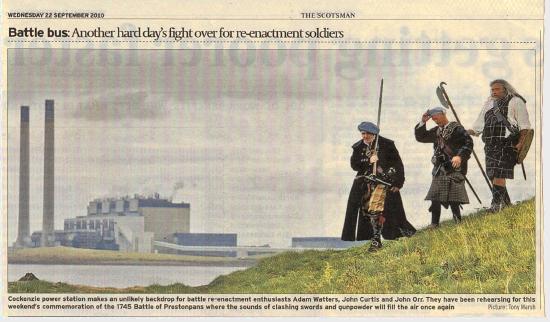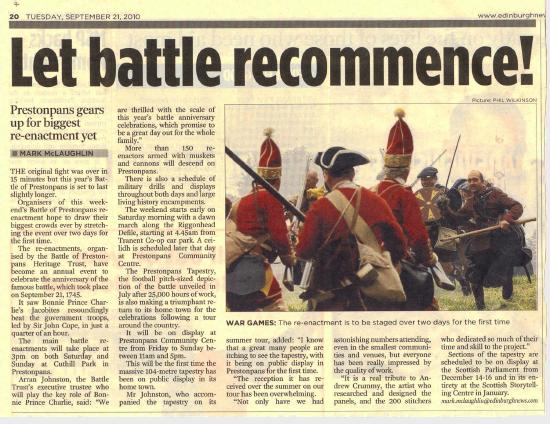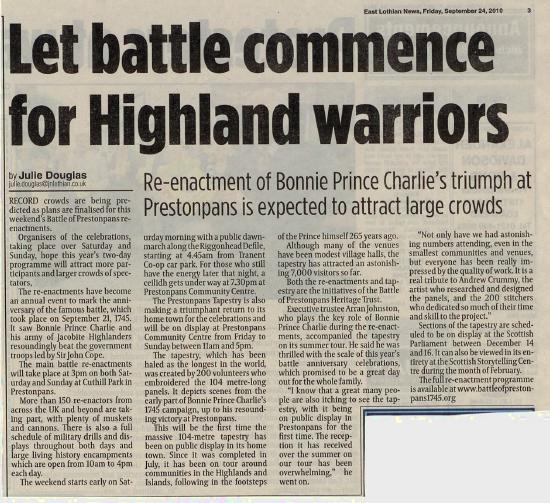 The Scotsman carried the morning after the weekend before photograph of the Highlanders demonstrating the blunderbus' colourful firepower at Cuthill Park ... and the East Lothian Courier and East Lothian News both reported how well all had gone.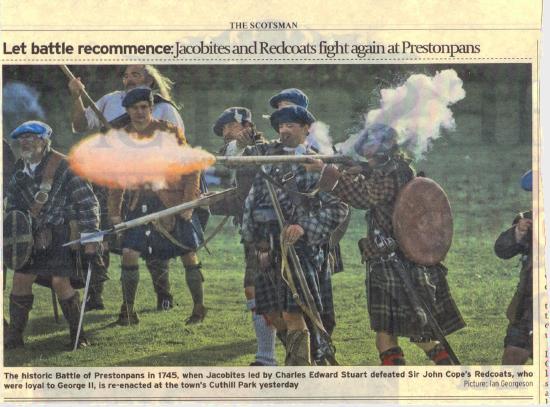 .... and finally, three examples of the PR during the recent Tapestry Tour, including Gaynor Allen's article in the East Lothian Town Cryer .... and sample reviews of Greentrax CD on the web ...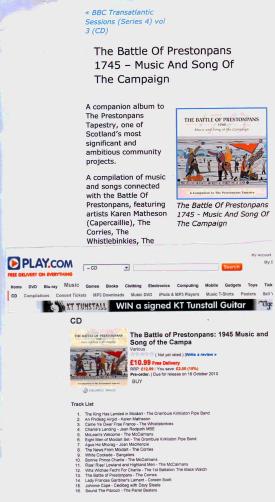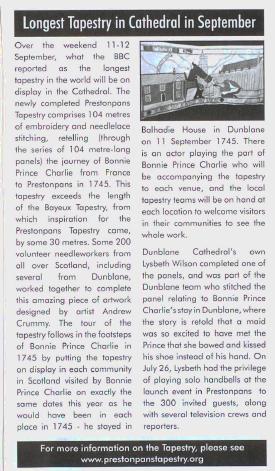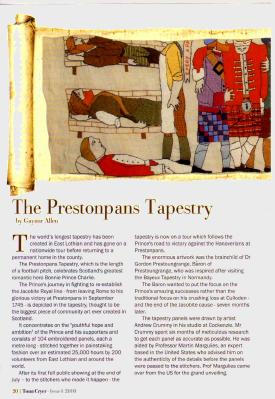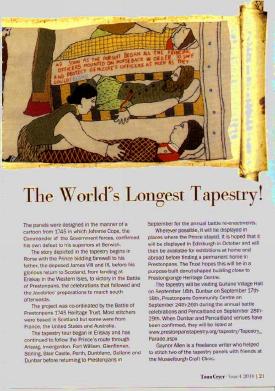 Published Date: October 3rd 2010