Dunbar 1650 Remembered - with 'Cromwellian' Soldier in Attendance
East Lothian Courier Records the Remembrance

It was a mighty victory for Oliver Cromwell on September 3rd that made Scotland his in 1650. He beat the Scottish army against all the odds because of the dedication and training of his Model Army.

It is pleasing that Dunbar is determined to act in this way and as with Pinkie Cleugh in 1547, it augurs well for an East Lothian Battle Trail in the fullness of time. And September is the month all three took place - Pinkie Cleugh was September 10th and Prestonpans the 21st [all auld calendatr of course!].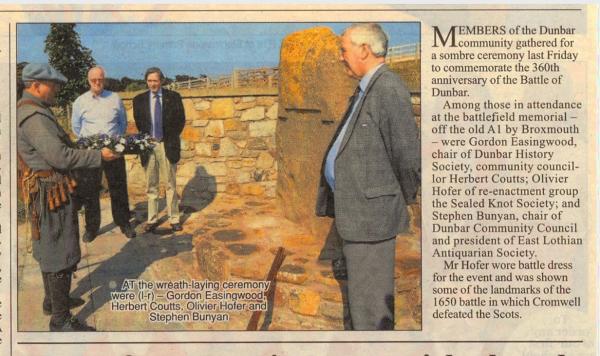 Published Date: September 11th 2010