The Salutation Inn at Perth Salutes the Tapestry as it did The Prince
Saluting The Prince outside the Salutation Inn has in its time been a source of considerable distress

... not least to Colonel Bower of Kincaldrum as he stood trial in York as a Jacobite in the wake of the failure of the Prince's campaign in 1746. But it was a happy reunion this year for Jacquie McNally, husband Shaun, young Charlie and Jacquie's parents. Panel # 37 carries the caption on the Colonel but it's the historical text and biographical details that give the 'human interest'. Stitcher Jacquie's parents Alan and Irene Melville met, married and celebrated their ruby anniversary in the self same room where the Tapestry is on display - and all were there to view, indeed Jacquie and Shaun dined there too with the tour team the previous evening.

Perth was the first major city the Prince captured in 1745 and it was where the Duke of Perth and Lord George Murray joined him. He was also joined by young James Johnstone who was later to charge at his side at Prestonpans on September 21st.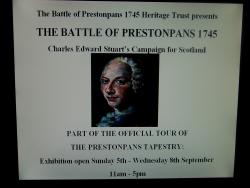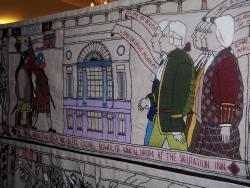 The Salutation Inn is certainly still a popular wedding venue and the Saturday celebrations meant set up could only begin at 9am on Sunday for the putative 11am opening which is actually not feasible! So the first visitors arrived as the white gloved finishing touches were being made - and the camera was able to catch the entire set up sequence in progress!

click to enlarge the images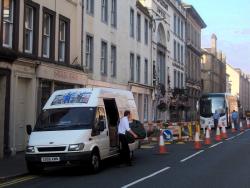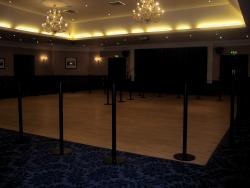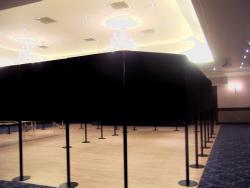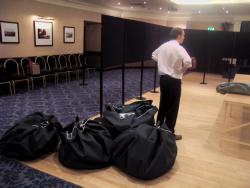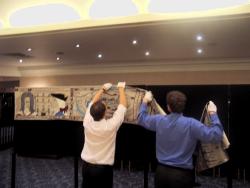 Jacquie McNally also embrodered # 107 that depicts the training of the Highlanders in Edinburgh before their march to England

Jacquie is pictured below showing young Charlie some of the details of the training in progress! This was before the Perthshire Advertiser arrived to photograph her maternal family and prepare the report which appeared on Tuesday September 7th. By Wednesday evening, 8th, some 540 visitors had seen the artwork and a goodly crowd attended Arran Johnston's evening talk and late night viewing.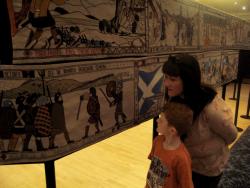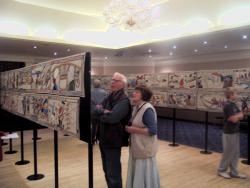 Judy Greenwood visited the Tapestry in Perth and wrote to artist Andrew Crummy: "Wow. I saw it in Perth and it was brilliant. What a wonderful venture .... I loved your drawings and love having the Guidebook to spend more time over each picture. My heartiest congratulations ....

"It deserves to have a permanent home and a regular stream of visitors. Should you not be charging an Entrance Fee too for the charity and administrative costs ... "


Published Date: September 10th 2010