The Prince & The Tapestry 'Squeeeze' into Stirling
Stirling's Smith Museum has the Portrait and now our Tapestry too

The Prince wisely declined to attack Stirling Castle on his march to take Edinburgh in August and September 1745. The Highlanders took care to pass well clear of the castle's cannons as so beautifully depicted by 'the Desperate Stitchwives' aka the Larbert Group, in panel # 41. But the Prince did take lunch with the Provost and his campaign was joined by many Robertsons. [And of course on his return in January 1746 a conspicuously unsuccessful siege was laid with the incompetent assistance of the French!]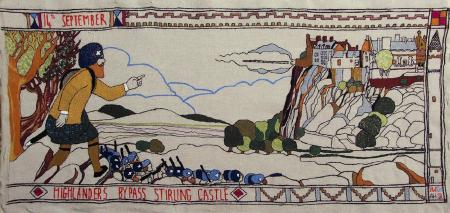 Nontheless, Stirling's Smith Museum has some treasured Jacobite associations – not least a portrait by Cosmo Alexander of the Prince - and gladly and cordially welcomed our Tapestry with more than 300 visitors over the one and a half days August 29th/ 30th. Arran Johnston continued to erect and host the Tapestry telling the tale to all those who came to see it, ably assisted by Andrew Allcorn.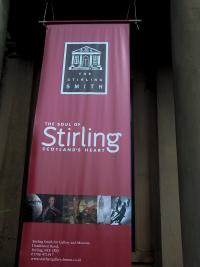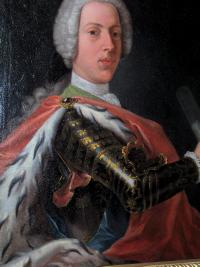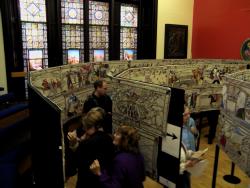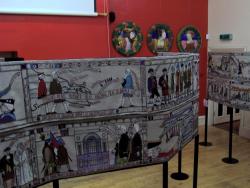 The Exhibition was presented in a 'modest' space [in fact it was a squeeze in!] but Arran was able to display all the panels, including the first public appearance of Elma Colvin's now beautifully accomplished panel #45 which shows Cope off shore by Bass Rock before his landing at Dunbar. The Battle Trust will for ever be indebted to Elma for completing this fine panel with such despatch when the original volunteer perforce returned it untouched just two weeks before the July 26th Stitchers' Private Viewing on the Green Hills in The Pans.

As the Guidebook shows, Elma was already well advanced as the book went to press, but we can happily confirm her beautifully completed panel is now accessible at the website.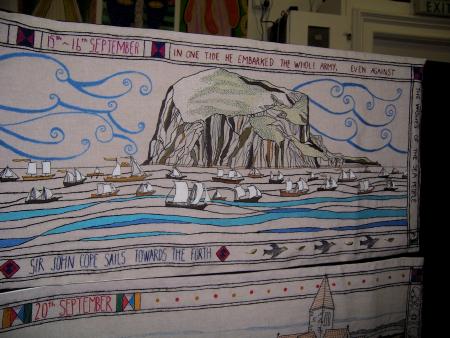 Panel #45 had been sewn in by the Panel Beaters when the Tapesty came back to Andrew Crummy's Cockenzie Studio earlier in the week for its first MoT. Dorie Wilkie and her colleagues were delighted to find on close inspection that whilst some sagging had occurred the care and attention lavished on the rolled cohorts and the five exhibition hangings by Arran Johnston and Fiona Campbell since July 26th had well met the necessary high standards.



Published Date: September 9th 2010