Invergordon Welcomes Tapestry as 'another' great Mural ArtWork
'Sister' Scottish Murals Town Invergordon Gives Tapestry a Fine Welcome ....

There was never any doubt that our 'sister' Scottish Murals Town, Invergordon, would give the Prestonpans Tapestry a warm welcome during its 3 day brief visit there August 8th/ 10th. And true to form just short of 350 visitors came to the town's important Naval Heritage Museum to see it as Arran Johnston and Fiona Campbell continued the Trust's Parade through the Highlands.

Next stop is Fort William which, in common with Invergordon, never actually welcomed The Prince in 1745 but which has been enthusiastic since the outset to stage a short exhibition.

This 'Official' Despatch from Invergordon has just been received

'The first leg of the Tour to Eriskay and Arisaig was, all are agreed, a great success. But there was to be no rest for the Battle TapVan team as they hit the road again on Saturday 7th August to continue their perambulations! This time, the destination was Invergordon, on the Cromarty Firth. [The Ross-shire Journal and North Star were both up with the storyline too.]

Invergordon: twin murals town to Prestonpans

Like Prestonpans, Invergordon is decorated with numerous murals celebrating local characters and events, and artistic links between the two towns are well established. Although Bonnie Prince Charlie never passed through Invergordon as he did the other tour venues, there was no lack of interest in his exploits. Some visitors to the exhibition were local, some from Inverness and the
surrounding areas, and there were also visitors from a German cruise ship! There was also plenty of local press interest.

click to enlarge all photographs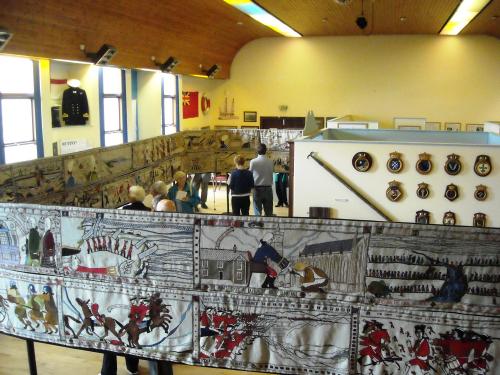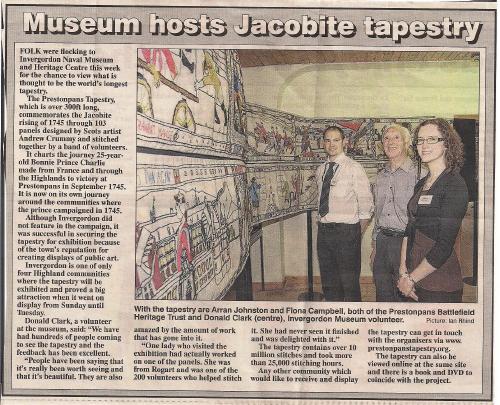 The Tapestry exhibition was set up across two rooms in the naval museum and heritage centre, which preserves the local history of Invergordon for its citizens as well as promoting it to the shiploads of international tourists who regularly dock in the town. The Prestonpans Tapestry was therefore surrounded by a rich collection of engaging historical artefacts, creating a somewhat unique display.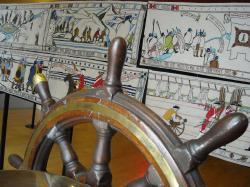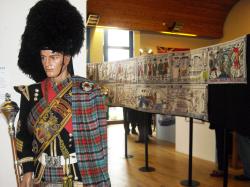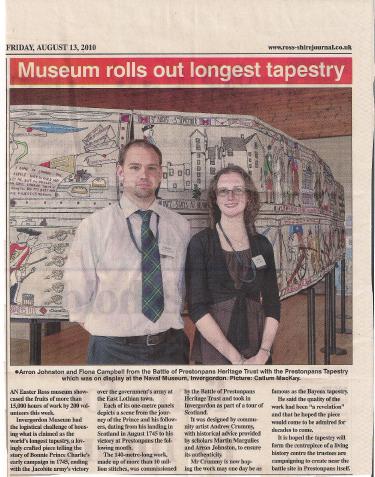 The total number of visitors exceeded all expectations, rising to an impressive 341 over three days. Added to the numbers from the Eriskay and Arisaig this means that the race is now on, at Fort William on 19th August, for the title of 1,000th visitor!

Our thanks go to all the team who helped us at Invergordon, but especially the museumís volunteer Donald Clark [pictured with Fiona Campbell] who was invaluable in his assistance.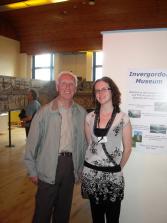 Invergordon of course had its own great September moment - just as the Pans did on September 21st 1745

On 15th & 16th September 1931, faced with a 10% pay cut that with certain other adjustments amounted to a 25% cut, some thousand sailors in the Royal Navy's Atlantic Fleet mutinied there i.e. withdrew their services! There was a run on the £ and the UK left the Gold Standard on September 30th. So, one could say our two communities have more than just their murals in common!

The reductions had been brought about because of the nation's then disastrous financial circumstances and were imposed by the 'National' Coalition Governement - sound familiar?

If you've not visited Invergordon to see their murals, they are viewable on the internet HERE



Published Date: August 16th 2010