Historiography it is then, and we thought it was Embroidery!
There you have it. Julie Douglas has pronounced us Historiographers ...

.... History makes history embroidering history!

And perhaps just as importantly she reports Alyn Smith MEP as being willing to explore with the Trust in Brussels whether the campaign for a Battle Living History Centre + More at Prestongrange Heritage Museum might be eligible for EU funding support.

Also present apolitically on the day were longtime supporters James Yule of Prestonpans Community Council, Councillor Peter MacKenzie also a Founding 1745 Battle Trustee, Councillor Willie Innes, ELC Provost Sheena Richardson, ELC Depute Provost Roger Knox also member of the Alan Breck Regiment of Prestonpans Volunteers, ELC Council Leader Paul McLennan and MSP Iain Gray.

Now read on. See what East Lothian News had to say on The Prestonpans Tapestry from its front page lead article.

click to enlarge all cuttings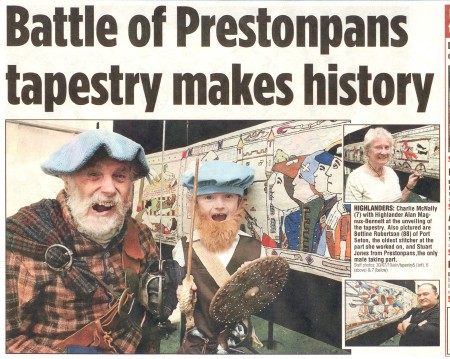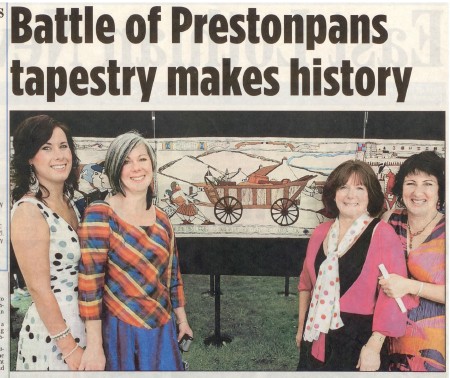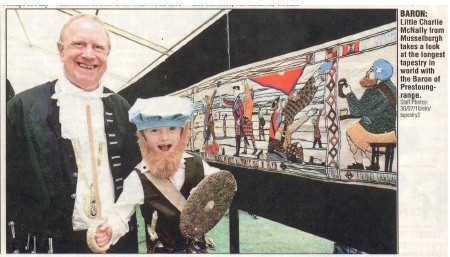 Young Charlie MacNally sure knows how to chase a camera does he not! But is he not having a whale of a time?


Published Date: August 2nd 2010