Detailing .... it's Sewing Up Cohorts, Hanging and Spindles
Media Hot Buttons - Where Did They Focus?

Certainly Charlie MacNally role-played the Jacobite youngster with great aplomb and the snappers loved that for the county newspapers. They journalists loved the sheer length of it, one even creating a relativity meter for Bayeux versus Prestonpans. The media certainly loved all the proffered statistics - longest in the world so far as we knew; 10 million stitches; more than 25,000 hours embroidering; 200+ stitchers coming from all across Scotland, France, Australia, USA and Ireland ...

Stuart Jones was wrongly reported to his great annoyance as being the 'only man' at work on the tapestry in two newspapers. [As Stuart has pointed out since to the press that is not at all correct! Michael Dalaigh, the artist's father-in-law in Dublin, stitched a panel as well]. Andrew Crummy, as the artistic creator, came in for a great deal of attention and rightful praise. The Baron also got more than a fair share of credit for setting the 'hare' running after his own visit to Bayeux yet his wife Avril, who played a contributory role behind the scenes preparing 21 spindles on which each of the cohorts of panels is wound whilst touring, got none.

And then there were the 'panel beaters' themselves led by Dorie Wilkie. Their skilled conjuring of 3000 metres [yes, there's a new statistic] of thread to sew the cohorts of 20 x 5 panels + a final 4 together got no mention - although they could be readily identified on the day, each with their beautiful white rose corsage. Neither did Gillian Hart the photographer and co-ordinator for the Tapestry or the Prince come in for attention by the media. Nor did the Baron's 32" circumferential search for waterproof kitbags to carry each of the cohorts once it's wound around the spindles Avril made. Nor did Richard White and Rob Javis who create and master the website or John Unwin who has laboured for hundreds of hours creating the Tapestry Guidebook or Sylvia Burgess who assisted John and Gillian and the Baron with more than a few chaser chores!

No complaints about any of that .. just philosophising about media hot buttons!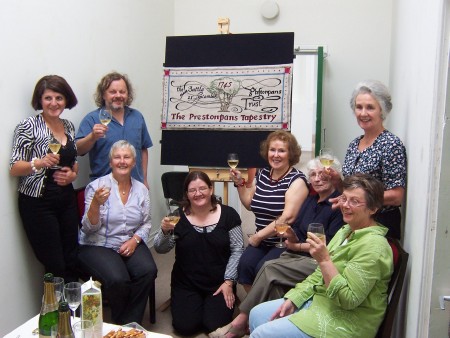 None of the above is carping at all. Philosophising more like. But for this NewsNet it's a fine pretext to show a picture [above l/r standing Marietta di Ciaccia Andrew Crummy Shona McManus; seated Mary Richardson Elizabeth Jones Dorie Wilkie Meg Porteous Kate Edmunds] of most of our Panel Beaters celebrating with some champagne their 'last' sewing of the 'final' cohort of five panels, and the pre-exhibition shakedown 'hanging' in Andrew Crummy's Cockenzie Studio of all the panels. And finally a picture of Avril [below] creating the sleeves for those spindles!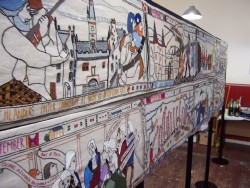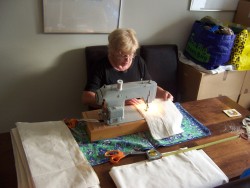 Published Date: August 3rd 2010