BattleBus Takes Flight and to the Ski Slopes - all in one weekend
Forget July 26th. What's to be done on 24th & 25th?

'When needs must, the work gets done', they say. Well that's what came down the tracks on July 24th and 25th with the BattleBus invited first to East Fortune Airshow and then to Braemar's Jacobite Day. So the Alan Brecks' forsook Tapestry Blues, Marquee Miasma and White Van Decal Dilemmas to head out and spread the word amongst the 15,000 proffered footfallers.

Concorde in the background as the planes fly high

With no operational runway at East Fortune today there was no noise from take offs or landings - but there was a fair-ground and myriad attractions to amuse one and all until the airshow started and in the in-betweens. The BattleBus was clearly such an attraction indeed a curiosity. Some 150/ 200 visited with us, many of them loyal Panners past and present, but certainly not all. Talk was of re-enactments and ambitions and hopes for a Living History Centre. The Trust's new 16pp Prospectus for the Nation was available as well as the Tapestry Parade Schedule for August/ September to dispense.

click to enlarge all images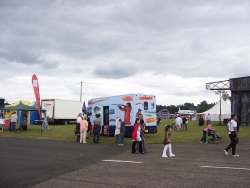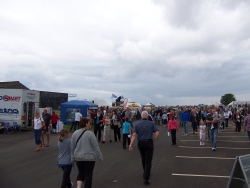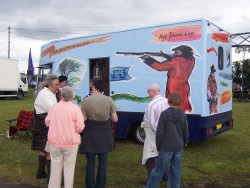 The sampler Tapestry Guidebook was also to hand which fascinated mmore than a few ladies. Jacquie MacNally, a two-panel stitcher, was just a happenstance visitor and was able to find a nice proofing error on one of her pages to be corrected post haste!

Braemar was a 3 hour drive away so it was a prompt 4pm departure from East Fortune onto the A1

The route to Braemar eventually and inevitably implies following the A93 which crosses the summit at GlenShee, which for the BattleBus is a tad tortuous and occasionally precipitous. But the Hungry Highlander's fish and chips in Braemar that night were a delight as was the pig roast the following day.

It had been difficult to know quite what to expect at this 'Jacobite Day', but it was certainly spectacular. Not least because the community has lately taken a 50 year social enterprise lease on Braemar Castle with a determination to nourish their cultural asset. Their town was untouched by the '45 but the Standard had been raised there in 1715 for the 26 year old King James VIII, the Old Pretender. But if the town had been untouched by the '45 the Laird's famiy had not. Anne Mackintosh [nee Farquharson] and her husband Captain Angus Mackintosh took opposite sides - she leading clansmen to The Prince's Standard whilst he held to his post in the Black Watch for the Hanoverians. Braemar's French resident Michel is also clearly an ardent supporter of the Prince since 'his' du Teillay cabin trunk was prominently on display.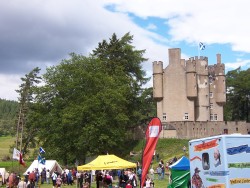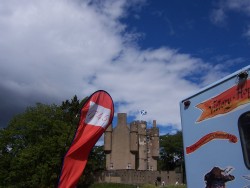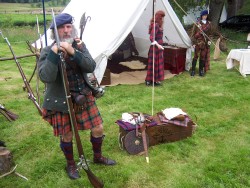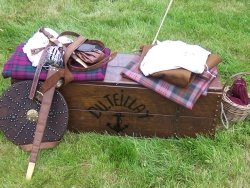 The highlight of the day was neither the sheep shearing, the tethered birds, the weavers or the wee pony fascinating though they were.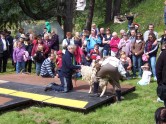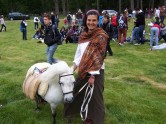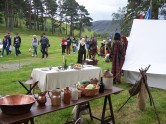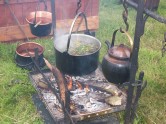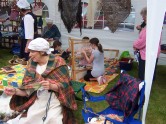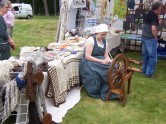 No, the highlight was the Story of the '45 a pageant in music, song and dance directed by Marilyn Dante, that held the crowd of maybe four hundred.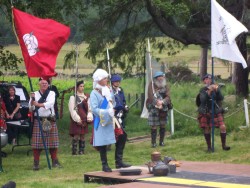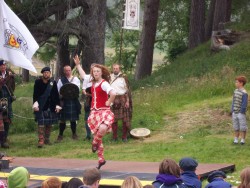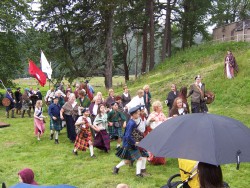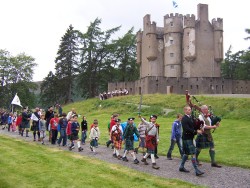 For the Alan Breck's the entire occasion was quite magnificent. It was tilor-made and not to be missed! Here was a Jacobite Day dedicated exclusively to the '45, with Bonnie Prince Charlie in starring role. There was much talk of tapestry with the ladies and keen interest from several re-enactors present, amongst them Pans' veterans from Lace Wars. Nigh on 250 visited the BattleBus between 11 am and 5 pm, vindicating yet again the crowded schedule we had set ourselves on Tapestry Gala Eve. The photographs give some indication of the day's events and the superb castle of which Braemar's community is now steward.



Published Date: July 31st 2010