Tony Marsh Gets Some Fine Images for the Archive
Our own onsite photographer Tony Marsh offers these images ..

Tony was with us at 11 am and stayed on until the evening closed at 8pm. He takes great pictures and puts them on the wires to agencies and newspapers to use .. here's just a few from Monday July 26th

Charlie MacNally did well throughout the day, and Elizabeth Carmichael and Joan Kerr - mother and daughter - graced the pages of the Perth Courier on Tuesday 27th. The others have not surfaced here so far for the webmaster.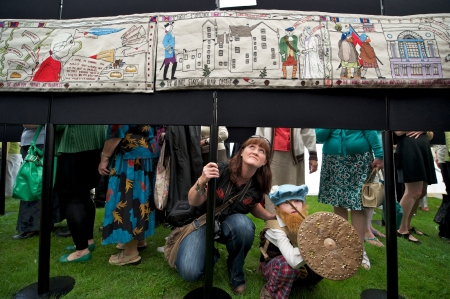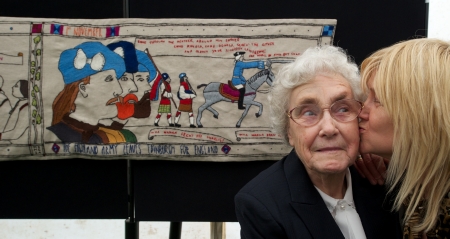 The shot gun start of viewing, with all making their way to their own panel and rotating from there, almost worked .... At least it avoided crowds in the gentle rain at 11.45 am when East Lothian Provost Sheena Richardson, MEP Alyn Smith, Westminster MP Fiona O'Donnell, ELC Council Leader Paul MacLennan and Councillors Willie Innes and Peter MacKenzie, Community Council Chairman James Yule and finally Iain Gray, local East Lothian MSP and Labour Leader at Holyrood were all apolitically gathered to see the tapestry.

And The Prince himself got a lookin as well.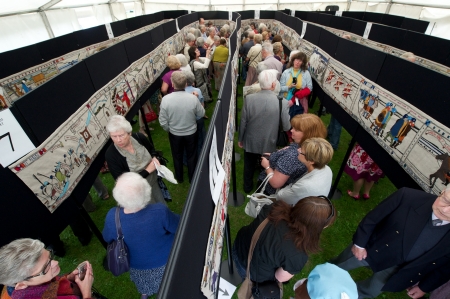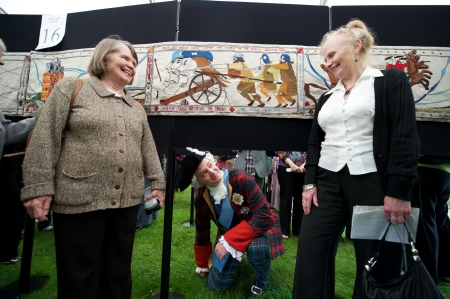 Published Date: August 2nd 2010