The Unfinished Business of the '45 ....
All great works are somehow unfinished ...

...well almost, and in the case of The Prestonpans Tapestry it is only for a wee while although the 1st Edition of the Guidebook will record it for ever.

You've guessed it, even if you did not spot it on July 26th. Panel # 45 is the unfinished panel - how ironic can you get?

It's a simple tale really. The volunteer to whom it went was unable to get started and unable to let us know until, well, until much too late! Elma Colvin from Dorie Wilkie's core team at the Cockenzie Studio graciously stepped up to the breach to get the whole panel moving and had been able to finish as far as can be seen below. [You can click to enlarge the image of course.]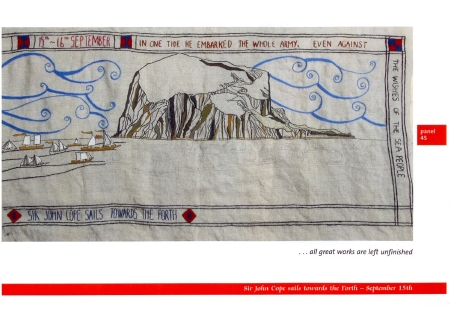 A million thanks to Elma, who had already completed the Tapestry's beautiful Title Panel and the story panel #18 very much on schedule. As soon as Elma has finished, we'll get it here on the website for one and all to appreciate.


Published Date: August 1st 2010