Closet Hanoverians Find Their Champion
It's weary at times to be assumed a Highlander Supporter of The Prince

It's extraordinary how many youngsters on school visit want to 'be' The Prince and want The Prince to win. It was certainly not like that in East Lothian in 1745 where the great majority had benefitted greatly from the Union Queen Anne had insisted upon. But today it seems Hanoverians are best staying in their closet for fear of the Highland Charge.

Below Yvonne Murphy has embroidered the Union Jack flag without of course the inclusion of St Patrick's Cross. It was this flag Cope's army flew. Confronting them are Jacobites as stitched at the Craft Clinic in Fisherrow.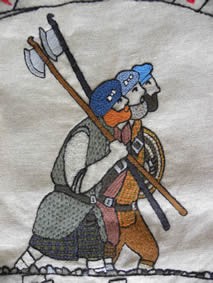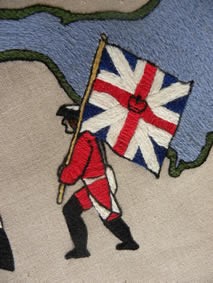 And who said life's not a hard road? These are just a few of the rocks on the Corrieyairack Pass the Highlanders crossed ... all 26 miles of it.... stitched by Katherine Shaw.


Published Date: July 15th 2010