1745 Battle Re-enactment Programe: September 19th-26th 2010
The Annual Re-enactments for 2010 certainly have surprises!

The 2010 Re-enactments of the Battle of Prestonpans, which has its 265th anniversary this September, are being co-ordinated as usual by the Alan Breck Regiment in partnership with the Glenbuckets. Old friends from the Czech Republic's 77th Montgomeries and Lace Wars will also be taking part.

This year the first re-enactment is not home-grown however. The Trust and Regiment are delighted to come out in support of the Duddingston historians, the Sheep Heid 650th celebrations, and the Historic Scotland Rangers ... who together are commemorating the Highlanders' march from King's Park to Duddingston on September 19th.

Similarly, in the build up to the battle, a re-enactment of Cope's redcoat landing in Dunbar will be presented by the Lascelles Regiment and the Alan Brecks on September 23rd. Wreath laying will take place on September 21st at the Cairn and the Obelisk and on 24th, for the first occasion, at the Prestongrange Church funerary monument to redcoat Captain John Stuart of Phisgul, a Gentleman from Galloway - who died in the battle.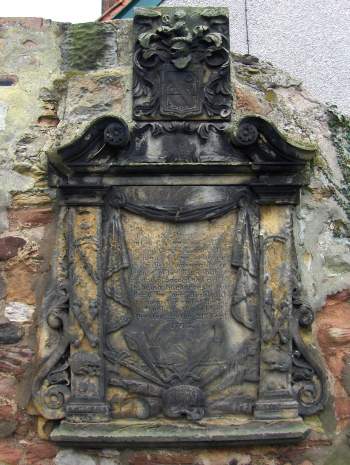 Redcoat Occupation of Prestonpans & Encampment at Cuthill Park once again set the weekend re-enactments rolling

The main body of re-enactors will reach The Pans by Friday evening, September 24th and the redcoat occupation accompanied by the Alan Breck Pipes and Drums will take place directly, the armies marching down the High Street from the War Memorial to the Prestoungrange Gothenburg from 7pm. The great majority of soldiers will camp at Cuthill Park throughout the weekend.

The full programme [still a working draft at this stage] is as follows:

Sunday 19th: March from King's Park to Duddingston led by The Prince. All welcome - come in Highland kit as possible.

Tuesday 21st: Wreath laying at the cairn and Gardiner's Obelisk. Battlefield Walk and evening talk - Prince Charles' Reflections on the Battle.

Thursday 23rd: Sir John Cope lands at Dunbar. Redcoats at the Harbour and High Street.

Friday 24th: PRESTONPANS TAPESTRY ON PUBLIC DISPLAY @ Community Centre 10 am - 4 pm; Wreath laying at the funerary monument to Captain of Lascelles; 7 pm Cope occupies Prestonpans.

Saturday 25th: 5 am from Tranent Co-op Car Park - Walking the Riggonhead Defile to Seton Farm East - all welcome.

Prestonpans Tapestry Display continues 10 am - 4 pm @ Community Centre

Living History Encampment @ Cuthill Park
10 am Opens; 11 am Review of Armies; 11.30 Council of War & Powder Issue; 12 noon Soldiers take lunch in their camp; 1 pm British Army Drill Display; 2 pm Jacobite Army Display; 2.30 pm The Story So Far ... retold by Trustee Peter MacKenzie; 3 pm BATTLE OF PRESTONPANS; 3.30 pm General Salute and the Dead Arise; 5 pm Encampment Closes to public; 5 pm Redcoat soldier escapes to Pittenweem from Morrison's Haven.

7.30 pm Supper & CEILIDH at Community Centre Everyone welcome - admission £5/ £3.

Sunday 26th

10 am Encampment Re-Opens to public; 10.30 Council of War; 11 Children's Drill; 12 noon Soldiers take lunch in their camp; 1 pm British Army Drill Display; 2 pm Jacobite Army Display; 2.30 pm The Story So Far ... retold by Trustee Peter MacKenzie; 3 pm BATTLE OF PRESTONPANS; 3.30 General Salute and the Dead Arise; 4 pm EVENT CLOSES


Published Date: July 10th 2010