21 Today ... Yes, that's the Completed Panel Count ... and more ...
21 Panels Complete; 42 biographies and 31 Black & White Pictures ...

We can't say the glass is half full [yet] but it's filling up quickly. And displayed below are six panels just arrived ready for blocking by Dorie Wilkie and colleagues bringing the 'known' total completed already to 21/ 104.

All stitchers know the deadline for the book to be printed is June 30th if not earlier and for hanging the 'stitched together' tapestry at Prestonpans Heritage Museum July 26th. Anyone who thinks they might not make the dealine please be in touch at once with Dorie Wilkie/ Gillian Hart/ Andrew Crummy. No opprobrium! Help is to hand if you just ask ....

N.B. There is however an urgent priority ahead even of finishing the stitching of the remaining 83 panels [yes, it's true!] - the priority is to get in the personal biographies and Black & White photographs of each stitcher in action. Colleagues Sylvia Burgess, Gillian Hart and The Prince himself will all be hitting the phones and emails in the coming two weeks to get them ALL in and typeset for the book, yesterday really.

As all those who have undertaken publishing in their time will know, for our printer to stand a chance of getting the book printed and bound by July 26th, with the last colour panel dropped into place on June 30th, is mindbendingly ambitious. But every one of us can do our biography and Black and White picture well before then and ease the strains. So PLEASE ... PLEASE let's have them all in yesterday svp. Ideally jpegs attached to emails but if not 1st Class post.

But now for those elegant works just arrived to hand amongst the 21 received .... first seen below is actually Australia's Rosemary Farmer [born it transpires in New Zealand] who brought her's into the Gothenburg the same day as the Dunblane team came for lunch with their's - Tuesday last - and found Mary Storrar from Ballarat, an Australian born Dunlaner at the table too!

click to enlarge images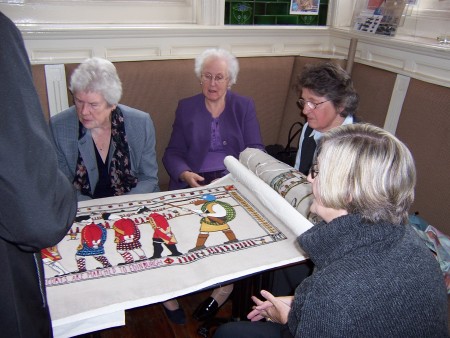 Then just imagine Dorie's delight when she saw the Camerons' two Tranent churchyard panels together as stitched in Dunblane. At last, the first two to be stitched together had arrived in her hands [or are they? Could they be the last of a cohort of 5 and the first of the next? Relax Dorie - in fact they are panels # 64 & 65 - the last two of the thirteenth cohort.]

What's a cohort you might ask? Well, it's five panels stitched together ... the 104 panels will be stitched and backed in 20 batches/ cohorts of 5 and one of 4, so each 'batch of five' is called a cohort of panels.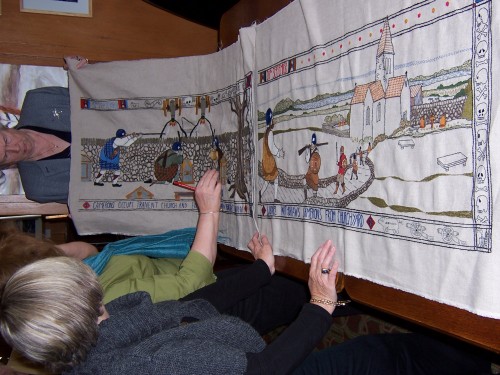 Apologies ladies for the sideways imagery above! Simply can't get good photographers when you need them. And taken separately here they are below.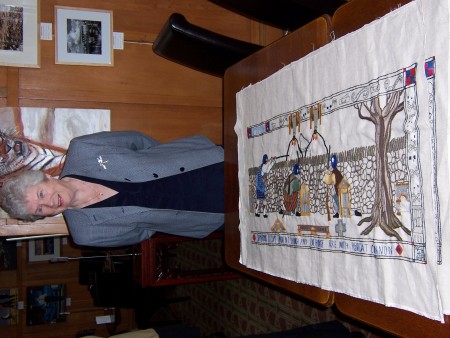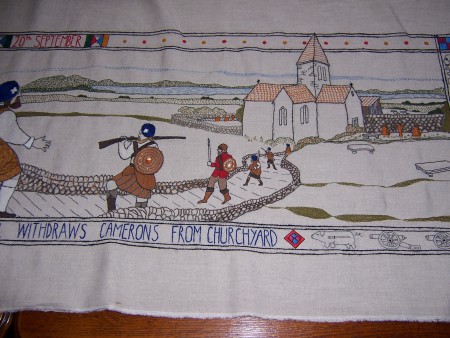 Finally, three more from Dunblane's team as follows ...

Edinburgh Castle fires its cannons down the Royal Mile to make sure food supplies are resumed; Cope's men make Forced March from Inverness to Aberdeen; and finally Cope and his Brigadiers Flee the Battlefield - thus for ever giving the name Johnnie Cope's Way to the narrow track from Bankton House to Birslie Brae.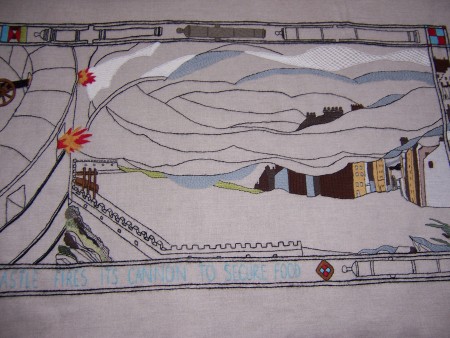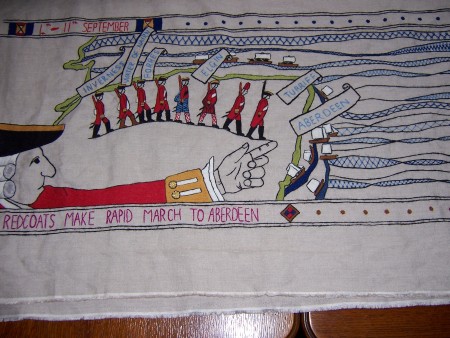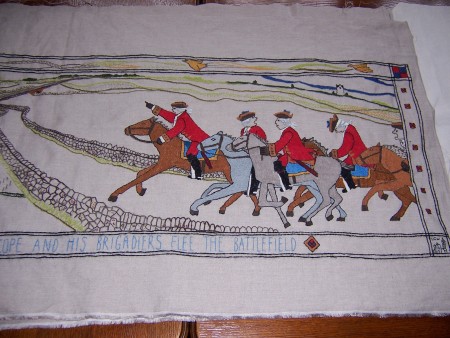 A very very grand Thank You to all in Dunblane and looking forward to seeing one and all and partners and spouses on July 26th! - the party in Prestonpans seen below with Dorie Wilkie at The Prestoungrange Gothenburg.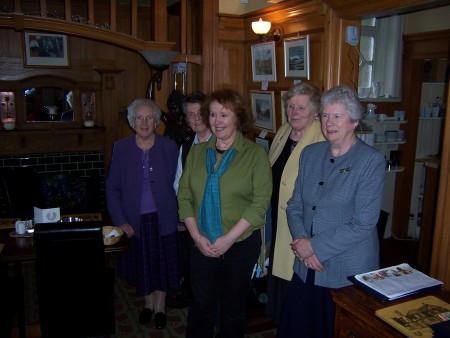 Published Date: June 2nd 2010